Plus: Real Estate In Puerto Peñasco (Rocky Point)
Squatter's Rights Around The World
As my bus pulled out of the terminal in Vitoria, I thought once again about how much this city—the capital of the diminutive state of Espiritu Santo—resembles Rio de Janeiro, albeit smaller. It's evident in everything… from the beaches to the architecture, and from the food to the faces and accents.
But then, as I stepped off the bus an hour and 15 minutes later in Domingos Martins, I felt like Dorothy opening the door in Oz… because Domingos Martins, a small town nestled in the coastal mountain range, is a world apart from the state capital of Vitoria. Founded in 1847 by immigrants from Pomerania (which today lies on the border of Germany and Poland), it's an enclave distinct from the areas surrounding it.
It's immediately evident why Domingos Martins is such a popular weekend and seasonal destination. It is simply charming. The population of the metro area numbers about 37,000, with perhaps half that living in the town itself. It has a warm and genuine small-town feel. Hills blanketed in evergreens and broadleaves surround Domingos Martins on three sides, lending a sense of community and security.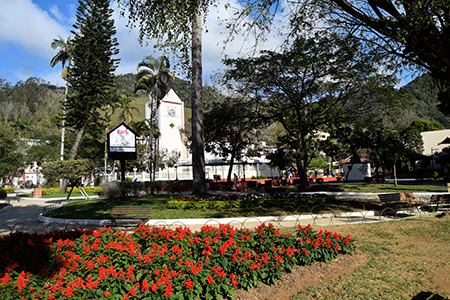 The colorful town square is the social center of Domingos Martins
The German heritage is evident everywhere. You pass through a typical German-style portal when arriving. In traditional fashion, the town is organized around a square, the centerpiece of which is the Lutheran church. The square is crisscrossed by well-tended and freshly swept walkways, and adorned with small, manicured flowerbeds. Numerous buildings sport Bavarian-style exposed beams on their facades, some even hanging signs in Black Forest lettering.
And all of this generations after its founding… local pride in the city's roots still runs strong. City leaders spearheaded the opening of a small museum of the city's history in the Casa da Cultura. And peppered around town you'll see signs which read: Aprenda Alemão, (Learn German). On each is presented a word or phrase in German with its Portuguese translation. Indeed, sometimes you can still hear the Pomeranian dialect spoken on the street.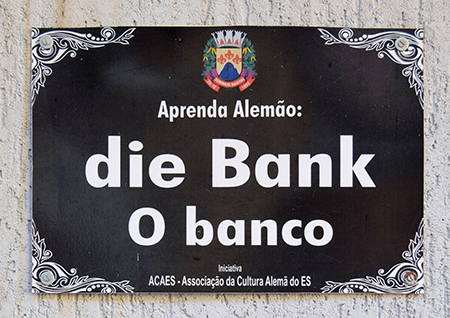 Mini-language lessons are peppered around town
Most activity is concentrated around the square. Locals do their shopping on Avenida Presidente Vargas, the main street which runs alongside it. Abutting the square itself is a half block given over to small shops and kiosks selling locally produced handicrafts and food items.
On the square you'll see a mix of generations. Young mothers exchange gossip while watching their toddlers chase pigeons. Adolescents hang together in groups on the fringes, showing off and laughing, while seniors reminisce and offer their observations from the pine-green park benches. Carts offer ice cream and churros. Also at the square is the town's main taxi stand. Should you not find a taxi waiting there, simply refer to the signpost, which lists the first name and cell number of each taxi driver.
Domingos Martins feels a bit like Mayberry.
Promotion And Development Efforts Keep Domingos Martins On The Upswing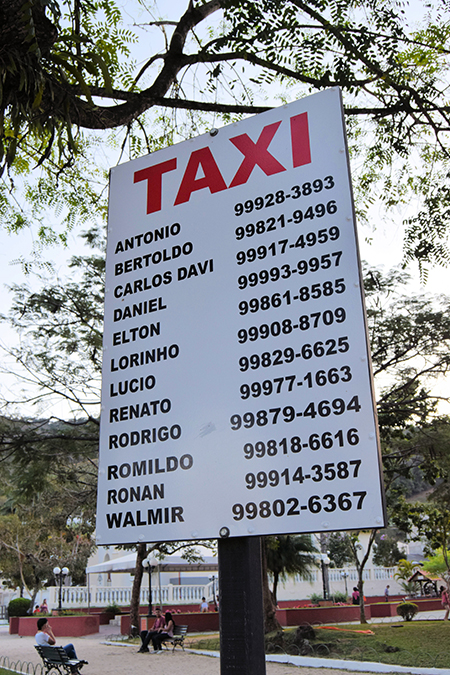 The small-town, personal approach to taxi service
While Domingos Martins retains its small-town ambience, the city leaders have been working steadily to improve and promote the town. Joel Velten, a descendent of one of the original 39 families which settled here, worked to inaugurate the Rua de Lazer (Leisure Street) after being inspired during a visit to San Francisco. This three-block pedestrian arcade lies near the town square. It is lined with mid-level and upscale shops and restaurants.
The city also hosts an annual "winter" festival each July, when nighttime lows dip into the 50s. You can enjoy a microbrewed lager and German bratwurst while watching locals dance to traditional German music in lederhosen. Mixed in you'll find food and music from Brazil's own festas juninas, which celebrate folklore from the country's northern region.
And people come throughout the year simply to enjoy the beauty of the area. Within a short drive you can find hiking, fishing, canoeing, rafting, even rappelling.
As a result of its culture and its beauty, Domingos Martins is becoming increasingly known regionally. Visitors have begun to buy second homes here. Even now, in the midst of Brazil's recession, you see construction. One multistory condominium building is going up within a stone's throw of the square, and I saw two others near downtown.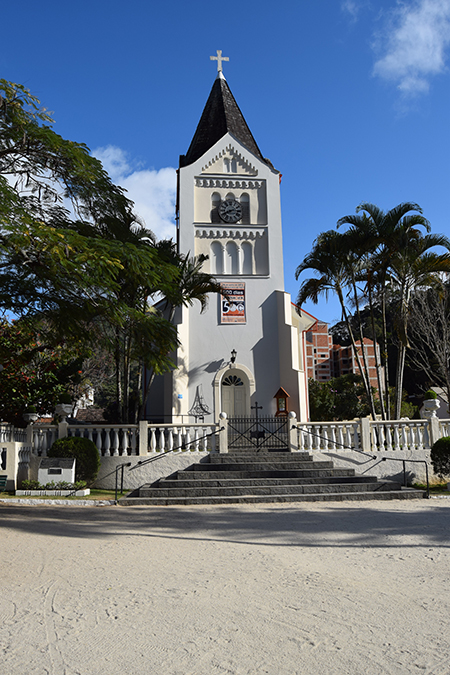 You can see a new low-rise condo project just a few blocks behind the square's Lutheran church
The state government sees potential in the region as well. SESC, a governmental organ which promotes business interests, has announced plans to build a multi-structure convention center only a little over a mile from the town center. The idea is to bring in groups not only from Vitoria and Vila Velha, but also from mega-centers such as Rio and São Paulo.
Investing In Domingos Martins
The word is already out about Domingos Martins… prices for homes and land aren't as cheap as in years past. Still, in comparison with North American prices, real estate is quite reasonable. Brazil is still going through a recession, which has reduced liquidity; consequently, if you have cash and a bit of patience, you can find deals.
As always, it's best to physically visit the area before making any decision. If you like what you see, there are several options for investment.
Buy For Development Or Speculation
There are opportunities to invest either in current construction projects or in raw land. However, while the fundamentals here are strong and demand will continue, you should be prepared to wait up to three years to realize gains if you plan to buy and hold, given the current economy.
Buy A Residence
If you (or your spouse) are 60 years or older, and you can prove a monthly income of US$2,000 or more, you will probably qualify for a retirement visa which allows you to live in Brazil year-round and come and go as you wish. Alternatively, you can stay up to 180 days per year on a tourist visa, which is easy to obtain.
Buy Or Build Small Apartments To Rent To Tourists And Part-Year Residents
According to José Borges, a full-service realtor located here, demand has outstripped supply. (Indeed, while we were chatting, a woman entered his offices seeking an apartment for short-term rent.)
Live Part Time… Rent Part Time
You could live in your property yourself for part of the year—whichever part appeals most to you, as the climate is pleasant year-round—and have a local manage it for you during the remaining months.
Open A Hotel
There is room in the market for pousadas (small bed and breakfasts) all the way up to larger international-caliber hotels.
Open An Ecotourism Business
Although the area is scenic and possesses a diverse topography, ecotourism is still an under-exploited niche. It is also one which is quickly growing in popularity here in Brazil. Raw land can still be purchased at good prices and, with minimal development and a bit of equipment, could quickly be opened for hiking, camping, canoeing, etc.
Grow Coffee
Some of the best coffee in Brazil comes from right here. Remember, however, that Brazilian law prohibits foreigners from directly owning farms of more than 150 hectares (371 acres), so you'll need to either keep it small or form a corporation.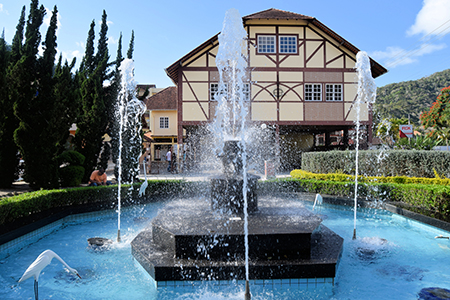 The town's architecture reflects its German heritage
Realtor José Borges, mentioned above, handles all manner of real estate dealings, and his website has an English version. While Mr. Borges himself speaks limited English, he has ready access to a translator.
Some example properties currently available include:

Undeveloped land: 280,000 square meters (69+ acres) of undeveloped land for 400,000 Brazilian reais (US$122,000). According to Borges, the property would be ideal for an ecotourism start-up.

A two-bedroom, one-bath apartment located in downtown Domingos Martins for an asking price of US$167,683 (550,000 Brazilian reais), the apartment is bright, airy, and modern with a great view. (https://www.morarnasmontanhas.com.br/imoveis/para-venda/em-domingos-martins/no-bairro-centro-domingos-martins/apartamento-moradia/id-315.html)

A lovely two-story, four-bedroom, four-bath house in the countryside—situated among rolling, forested hills—for an asking price of US$265,243 (870,000 Brazilian reais). (https://www.morarnasmontanhas.com.br/imoveis/para-venda/em-domingos-martins/no-bairro-soido/casa-moradia/id-304.html)
A limited number of apartments and houses are available for short-term rental (here termed por temporada). These would be perfect for someone planning an extended vacation or an exploratory trip to the area. See Borges' site or VivaReal for listings.
Is Domingos Martins Right For You?
Without a doubt, Domingos Martins has a lot going for it:
The town itself is neat and pretty. The surrounding areas likewise are lovely. If you can choose where you want to live, why not choose to be surrounded by beauty?
The weather is fine throughout the year. Average high temperatures in summer (November to January) are 84°F, and average lows are 66°F. Winter (June to August) highs are 75°F, lows 57°F. During the summer rainy season, Domingos Martins receives an average of 7+ inches per month.
Domingos Martins is safe and secure. Serious crime of any kind is virtually non-existent. You won't find graffiti covering walls… you won't find homeless on the streets… etc.
Although small, the town has a decent infrastructure and services. Locals in particular are proud of the Arthur Gerhardt Hospital. I was told that sometimes patients actually come from the state capital Vitoria to receive treatment here.
Although Domingos Martins offers all of the benefits of a small town and is surrounded by nature, it also lies less than one hour by car from Vitoria and Vila Velha, with their shopping, services, and sprawling beaches. Such prime, have-it-all locations are rare.
Both the municipal and state governments are committed to seeing continued growth here.
The current economic recession in Brazil makes this a good time for people with hard currency to invest.
But there are also a few negative aspects that you should be aware of:
Despite its charms, Domingos Martins is a small town. Some people thrive in such an environment, while others go stir crazy.
As is true across all of Brazil, you will need a working knowledge of Portuguese to get through your day. Also, there is not much of an expat community here, so if you intend to reside here, you'll need to dive in, study Portuguese, and mix with the locals. (Fortunately, Brazilians in general are extremely gracious and helpful with foreigners learning Portuguese, and the locals in Domingos Martins are in general quite friendly.)
While it's easy enough managing day to day without a car, if you wish to explore the area more, you will need a vehicle. You might buy, or you could rent a car… or, better still, make friends with locals who can show you around.
Banks in Brazil rarely provide mortgages or builder financing for foreigners. In the current economy, you may find developers who will provide buyer financing, but essentially this is a cash market.
As lovely as Domingos Martins is, it might seem too far off-the-beaten path for some…
However, for others, this lovely mountain town could be a wonderful spot to winter and to recharge. There are also good opportunities for solid returns for those who can leave their money invested awhile. I believe this to be a great time to shop for bargains before the market rebounds in an area with solid fundamentals.
John Clites
For Overseas Property Alert
Editor's note: John Clites is a U.S. citizen who first visited Brazil in 1993. He immediately fell in love with the country's incredible natural beauty and its warm, welcoming people. John traveled Brazil extensively before finally giving up his career in software to move to Rio de Janeiro in 2008. He now has permanent resident status.
John divides his time between teaching English and writing about Brazil. His first e-book, "Teaching English in Brazil," is available here (https://www.ComeTeachEnglishInBrazil.com/). He recently published a second book, entitled "Live Well in Rio de Janeiro: The Untourist Guide," which is available on Amazon. He currently resides in Vila Velha, Espirito Santo.
***
Letters To The Editor
Mr. Lee Harrison:
In March 2016, my wife and I had a few discussions with you about nearby Puerto Peñasco, Mexico. Now we are going there in October 2016 to relax and check it out for ourselves.
Could you refer us to a few realtors regarding rentals, relatively new condos, housing communities/developments for purchasing and/or construction, as well?
Thank you very much for your assistance.
Bobby
Take a look at the original article on Puerto Peñasco, and then follow the link to contact the realtor that I worked with, John Walz. John can help you with both a temporary rental as well as the purchase of a condo or house.
As an aside, they're building a new cruise ship port at Puerto Peñasco, so it may be a good time to invest there.
***
Lee,
In some countries squatters can be an issue if the house or land is not used full time. What countries have this issue?
Rachel
Excellent question. When a "squatter" obtains rights or title to someone else's property, they do so using the laws of Adverse Possession.
Adverse Possession generally means that a person occupied someone else's property, openly, for a specified period of time, after which they have legal claim to the property. The time of possession required to obtain title will vary by jurisdiction.
Adverse Possession is not a new concept. It was practiced in the Roman Empire and worked its way from Roman Law into the Napoleonic Code, and subsequently into Common Law, as practiced in the United States, Canada, England, and many other countries. It's a recognized means of acquiring title in all 50 U.S. states, with "squatting" periods as short as five years.
To answer the question, virtually every country recognizes these "squatter's rights."
If you have land that you're not occupying or using, the best means of defense is to hire a caretaker to occasionally check on the property. If you allow someone to use it, be sure to do so with a signed contract and with at least some token compensation.
Have a question? You can write to Lee here.