5 Top Markets For Expats In Mexico
Over the past four decades, Americans have voted Mexico the world's #1 place to live or retire in the way that really counts: They've packed up and moved there. This country is home to more American expats and retirees than any other—
at least 1 million and as many as 2 million, depending on the survey.
Americans looking to start a new life in a new country primarily seek three things: warm weather, beautiful beaches, and a low cost of living. Mexico delivers in all three categories.
While the living is not as cheap as it was in the 1970s when Americans first began migrating south in volume, Mexico is a bargain on the global scale. Thanks to the U.S. dollar's strength against the peso in the last few years, the cost of living appeals to retirees on a budget. In some parts of the country, this translates to super real estate deals, too.
The other big attraction of Mexico is its convenience. Depending on where you choose to call home in this diverse country, you could drive down from your U.S. base. This makes it attractive to expats who want to keep up regular links with family and friends—or even a business—back home.
Possibly the greatest challenge with Mexico is finding the right place to go. When you can choose from Pacific or Caribbean coast… historic city or laid-back beach town… how do you know what's best?
To help narrow your options, today we're going to look at the top five places expats tend to settle in Mexico—all of which offer a great lifestyle. Buying here, you could live full- or part-time… or invest to rent to tourists or other expats looking for long-term rentals.
1. Puerto Vallarta/Riviera Nayarit
Puerto Vallarta has been one of Mexico's most-popular resorts since the 1960s, although its rich colonial history goes back hundreds of years. Unlike many resort areas, PV has a number of coastal sections with beaches interspersed among them… meaning different areas have their own unique character. For LGBT expats and travelers, PV is the most inclusive destination we've found in Latin America.
You could also get along speaking mostly English in Puerto Vallarta. And, it's a pretty self-sufficient town with big box stores and solid medical care.
Puerto Vallarta excels when it comes to ocean views. Here, you'll find lots of properties perched on lush, green hillsides, and long views looking out to the ocean.
More resorts are now expanding north of PV, along what's known as the Riviera Nayarit. These past few years, FONATUR has been working on this coast—and on the roads needed to get to this coast—to develop a brand-new resort known as Costa Canuva. This will provide a quieter alternative to Cancún and the Riviera Maya on the Caribbean side. If you're interested in a tranquil beach lifestyle, now's the time to make your move in Nayarit.
In a gated community in Puerto Vallarta, you can buy a one-bed, one-bath condo for US$189,000. The complex is set in landscaped gardens with lovely mountain views, and the unit is 99 square meters with a wraparound terrace.
In a luxury, highrise building with views over the city, there's a 145-square-meter condo with two bedrooms and two bathrooms. In an excellent neighborhood with strong rental potential, it's asking US$295,000.
2. Ajijic/Chapala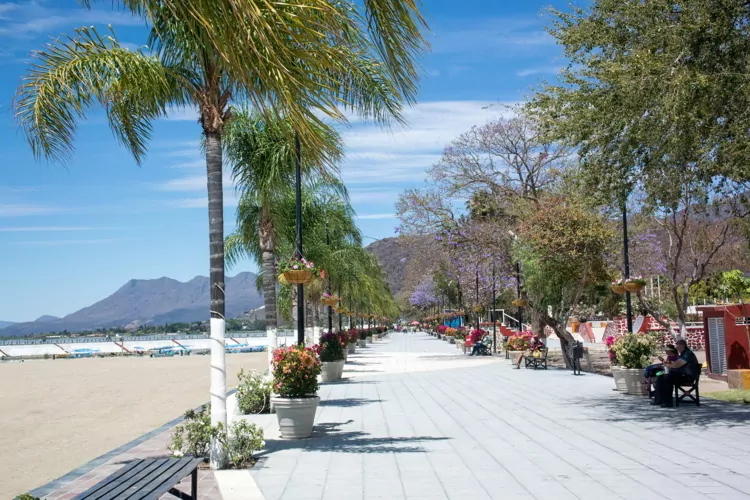 Ajijic is a 500-year-old village located on the shores of Lake Chapala, Mexico's largest lake. Located at 5,000 feet above sea level, the weather is just about perfect all year. In fact, National Geographic recognized Lake Chapala as having the second-best climate in the world (after Atenas, Costa Rica).
Ajijic is a picturesque and friendly colonial town. The narrow cobblestone streets are lined with colorful houses, along with more boutiques, galleries, and restaurants than you'd expect in a town this size. Ajijic and Chapala are the better-known towns, but you'll find other attractive villages within easy reach. Because of the high expat population, English is spoken everywhere. For shopping and good medical services, Guadalajara is less than an hour away.
In a gated community, there's a brand-new condo with two bedrooms and two bathrooms. It has 172 square meters of living space and lake views from the rooftop terrace. Price: US$194,500.
3. San Miguel de Allende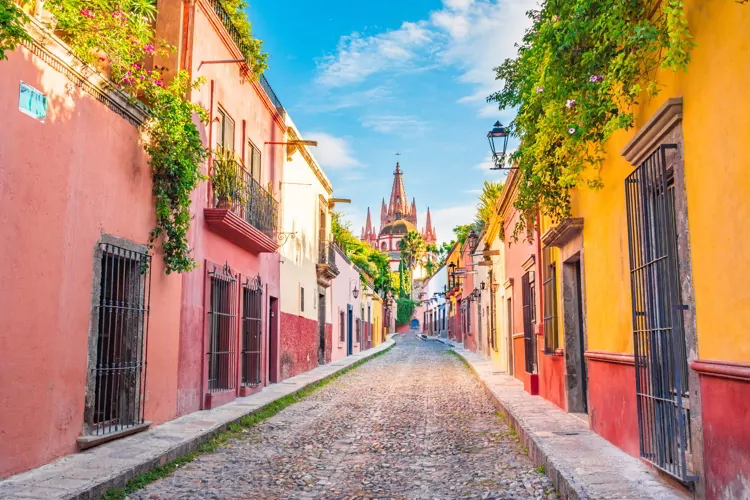 Voted the world's #1 city by Condé Nast Traveler, San Miguel de Allende sits in the middle of Mexico, some 10 hours south of San Antonio. It's a 450-year-old city of 150,000 people that works hard to preserve its colonial features.
The weather is sunny most days, without humidity. Temperatures are in the 80s by day, dropping to the 60s at night. For a small Mexican town, San Miguel has a diverse community with a strong international flavor. English is widely spoken around town. Many expats come here for the art scene. With a busy festival calendar, there's always something going on around town.
Close to shopping and a hospital, there's a 206-square-meter, colonial-style home with two bedrooms and two bathrooms. With beautiful mountain views, it's asking US$156,310.
If you're after something bigger, there's a 147-square-meter home for sale in a new development. It has four bedrooms, four bathrooms, and a rooftop terrace with mountain and city views. Price: US$161,000.
4. Merida/Progreso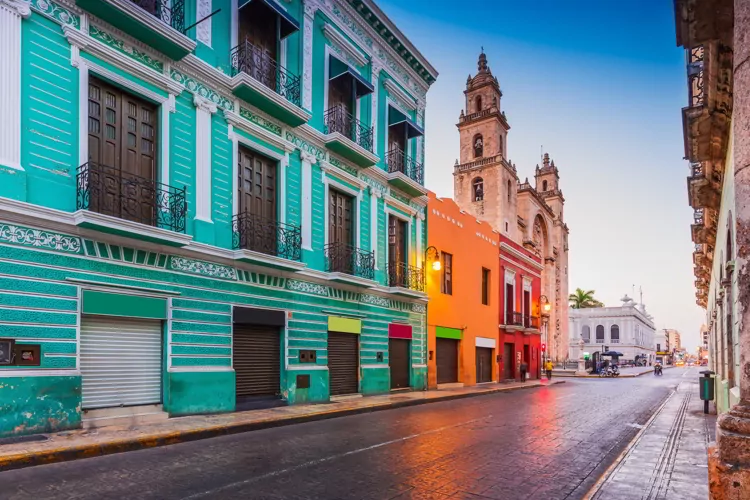 Merida was the first-ever city to serve as the American Capital of Culture. That was back in 2000, and the city reclaimed the title in 2017 (so far, it's the only city to hold this honor twice). Located in the north of the Yucatán peninsula, just under 200 miles west of Cancún, from here you can explore the rich Mayan history of the area. Once a wealthy colonial town, Merida's old architecture is well preserved, boasting wide plazas and beautiful cathedrals… as well as plenty of museums and galleries. Those who enjoy a tropical climate—and can cope with humidity—do well here. Daytime temperatures tend to stay above 86°F year-round (reaching 100°F in the hottest months), and humidity is moderate to high.
Merida also has the advantage of being close to the coast. It's about 40 minutes to the beach town of Progreso and an hour to Sisal—both good options for those who'd like to live by the beach but have access to a cultural city.
Restored haciendas tend to come at a premium, but you can still find affordable options around town. A renovated colonial in the center of Merida is on the market for US$339,000. It's 366 square meters with six bedrooms, six bathrooms, and a swimming pool—an ideal B&B or large family home. Meanwhile, beachside lots at San Benito (close to Progreso) are on the market for US$65,000.
5. Riviera Maya/Tulum/Playa del Carmen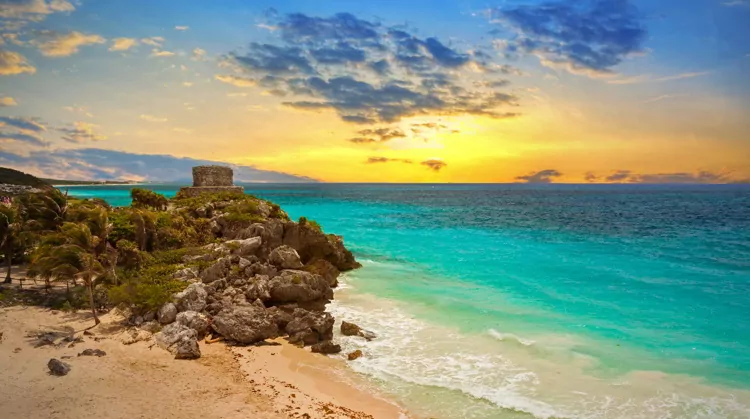 The Riviera Maya is the section of Caribbean coast on the eastern side of the Yucatán Peninsula between Playa del Carmen and Tulum. It's about 125 miles long. Development in this area is moving southward from Cancún and Playa, as developers and pioneers seek unspoiled beaches and towns that remain convenient to Cancún's international airport.
Not long ago, the town of Tulum consisted of a handful of cabins and a few fishing shacks. Today, the population is 46,700, and it's full of opportunity. Over the last 18 months, it has become especially attractive to the digital nomad set.
The Riviera Maya features warm Caribbean waters and pristine beaches. The Great Mayan Reef—the second-largest barrier reef in the world—is located offshore, providing world-class diving and snorkeling. Another draw to this area is the presence of the best-preserved Mayan archaeological sites… plus a few world-class golf courses.
You can choose between an established market with its chic lifestyle and good returns at Playa del Carmen near the north end… or invest for capital gains in a less-developed environment by buying in the path of progress as you move south. The advantage of this area is year-round tourism where 80% occupancy is typical.
In the center of Playa del Carmen, there's a fully furnished condo, 100 square meters, with two bedrooms and two bathrooms. With strong income potential, it's priced at US$185,000.
In a popular new neighborhood in Tulum (close to restaurants and stores), a two-bed, two-bath, 95-square-meter condo is US$199,000.
Finally, the markets I've chosen today don't represent the lowest prices you'll find in Mexico. These are the places most expats choose for the quality of life on offer. For investors, they are proven markets where you can find solid rentals.
Lynn Mulvihill
Editor, Overseas Property Alert