Plus: Freeing Up Your IRA For Overseas Investments
The Pros And Cons Of Fractional Ownership
Extending Your Stay In Europe
Due to the strength of the U.S. dollar against the Brazilian real, I've been paying close attention to the real estate market in Brazil. At the time of this writing, the Brazilian real is trading at 3.25 reais to the U.S. dollar… a 147% increase in buying power in Brazil for U.S. dollar holders since 2014.
If you're spending U.S. dollars, now is the time to be seeking out real estate deals in Brazil, as the real has moved dramatically in your favor… and no one knows how long this trend will last.
The Brazilian property market presents investors with a unique opportunity to profit from a simple change in currency… or capital appreciation… or both. In fact, according to the most recent national price index compiled by the Brazilian Institute of Economic Research, property prices have increased by 11.38% year-over-year nationwide as of May 2016.
Fortaleza, One Of Brazil's Hottest Markets
One of the best performing property markets in the national price index is Fortaleza where prices have increased by 5.2% since January 2016 and 13.47% year-over-year as of May. This trend is expected to continue as there's a housing deficit in Fortaleza thanks to Brazil's growing middle class.
Moreover, I believe that property investors have a huge opportunity to capitalize on the short-term rental market in Fortaleza along with the resort areas developing just southeast of the city.
Note that in local terminology, the coastline that runs southeast from Fortaleza is called the "east coast", while the coastline running northwest from Fortaleza is called the "west coast".
Ceará is located in the region called Northeast Brazil, and hosts a thriving property market
As you move further down along the east coast from Fortaleza, there are several capital appreciation plays that you can take advantage of. The availability of residential beachfront lots is limited… although we've been able to identify a beachfront-lot offer for investors that's ideal for capital appreciation. More on this later…
The state of Ceará is focused on developing the east coast for tourism. They've built a new airport in the area, and the state's tourism authority is working to find a private operator to begin accepting international flights on a regular basis. The approvals are already in place for this. On top of that, the state has begun the expansion and renovation of highway CE-40, the main state highway that runs along the east coast.
All of these factors suggest that the path of progress is along the east coast of the state of Ceará, starting in Fortaleza—clearly, it's a region that investors need to pay attention to.
Fortaleza is the capital of Ceará. It's the nation's 5th-largest city with a population of 3.6 million and the country's top tourist destination. So not only is the city popular among foreign visitors, but they have a huge domestic tourism market as well.
Property in Fortaleza is ideal for investors looking for short-term rentals.
The best areas in Fortaleza for short-term rentals include Iracema, Meireles, and Mucuripe… all of which are situated closest to the 16 miles of beachfront that runs along the city. The average price for beachfront apartments in these areas is a little over 7,042 reais per square meter (US$2,167). The average daily rental rate that you can expect from a unit is US$73 per night.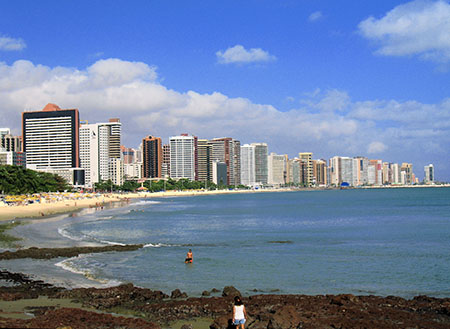 Fortaleza is the capital of the state of Ceará, and the hub of its economic activity
About 12 miles (20 km) east of Fortaleza is the town of Porto das Dunas, home to the largest water park in Latin America, Beach Park. Due to the popularity of the water park, a couple of resort projects have sprouted up in the area. The average price for a new beachfront apartment within a resort complex in Porto das Dunas is 7,991 reais per square meter (US$2,459). Short-term daily rental rates in this area are about US$118 a night, on average.
After Porto das Dunas is the town of Aquiraz, which features a newly developed tourist complex called the Aquiraz Riviera. Here you'll find five-star hotels and one of the most popular golf courses in the state of Ceará. A new beachfront unit in Aquiraz averages about 7,714 reais per square meter (US$2,374). The average daily rental rate from a unit in Aquiraz is US$96 per night.
Beachfront Apartment Prices Per Square Meter
Area
Price Per M2
Rental Rates
Fortaleza
BRL 7,042
USD 2,167
USD 73
Porto das Dunas
BRL 7,991
USD 2,459
USD 118
Aquiraz
BRL 7,714
USD 2,374
USD 96
The Potential Of Canoa Quebrada And Retirinho
As you move further along the coast outside of Aquiraz, the availability of beachfront condo units is non-existent. While you'll find large parcels of land for sale—primarily to commercial investors or large-scale developers—the availability of residential beachfront lots is very limited.
Up until about three months ago individual investors could find beachfront lots for sale. For example, in the municipality of Fortim about 60 miles (97 km) outside Fortaleza you could buy a small beachfront lot, about 362 square meters (4,292 square feet), for 225,000 reais (US$69,230). However, no beachfront lots are available in the area at the moment.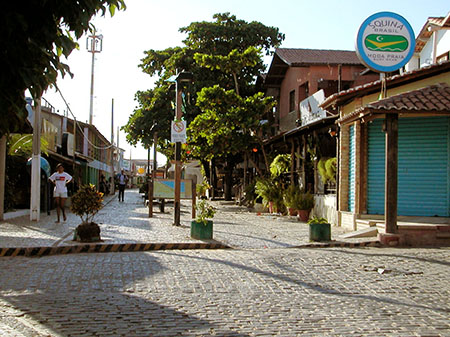 The village of Canoa Quebrada has been a big tourist draw for years
Like Fortim, no beachfront lot inventory is available in the tourist town of Canoa Quebrada, a short distance down the coast. Canoa Quebrada is known as the pearl of the east coast of Ceará. It's a very popular tourist destination, which features a selection of small hotels, pousadas (essentially a bed and breakfast), restaurants, and beach bars—mostly situated on the main street in the town known as Broadway. Last year, you could find a 429-square-meter (5,295-square-foot) beachfront lot in Canoa selling for 212,400 reais (US$65,350). Today, no beachfront lots are available.
Continuing southeast, just 15 minutes away from Canoa Quebrada is the small beach community of Retirinho. Despite being so close to Canoa, the town is still just a fishing village with two small restaurants (where you can find great fresh seafood). To date, no significant development has taken place in this area.
That said, we've identified a new project in its earliest stages of development, Reserva da Praia. We introduced this project in January 2016 and, to date, all but two of the beachfront lots in Phase I have been sold. The prices here start at 212,400 reais for a 2,162-square-meter lot (just over a half-acre) and goes up to 320,400 reais for a 4,232-square-meter lot (just over an acre). The average price per square meter is 114 reais (US$35).
Note: Though the Brazilian real has strengthened against the U.S. dollar since Reserva da Praia was first launched, the developer has locked in their prices at the January exchange rate of 3.6 reais per U.S dollar. At this rate, the 2,162-square-meter lot is priced at US$59,000 and the 4,232-square-meter lot is priced at US$89,000.
Beachfront Lot Prices Per Square Meter
Area
Average Price Per M2
Fortim
BRL 568
USD 175
Canoa Quebrada
BRL 404
USD 125
Retirinho
BRL 114
USD 35
The lots here are more than five times the size of the lots sold in Canoa and Fortim. Yet at the moment, they're selling for one fifth the price per square meter in Fortim and almost a quarter the price in Canoa. As Retirinho continues to develop, which I believe it will, I see the lot prices here tripling in value… at least. Add in the strengthening of the Brazilian real and your returns could be even higher.
Final Thoughts And Recommendations
The more I learn about the northeastern coast of Brazil, I can't help but compare it to Mexico's Riviera Maya and the growth along that coast, starting from Cancún to Playa del Carmen to Tulum. With the exception of the city of Fortaleza, which dwarfs Cancún in terms of size and population, the beach towns developing along this coast are very similar to that of the Riviera Maya.
This part of Brazil is unique as you have a strong short-term rental market that's fueled by not only foreign tourism, but domestic as well. Plus, you've got a property market where values are growing annually by more than 13%. What's more, the present currency situation has moved in favor of U.S. dollar holders. All of these reasons are why I believe that this market should be squarely on the radar of every global property investor… right now.
For investors looking for immediate rental cash flow, I would recommend properties in Fortaleza and Aquiraz (which includes Porto da Dunas).
However, if you're an investor with a longer investment horizon looking for capital appreciation plays, I'd recommend that you look at the beachfront lots being offered in Retirinho. To learn more about these beachfront lots, I've included a link to the report we did back in January. To learn more about property in Fortaleza and Aquiraz, get in touch with our recommended agent on the ground here.
Omar Best
For Overseas Property Alert
Editor's Note: Omar Best is editor of Global Property Advisor, a premium subscription service focused on buying property abroad for investment or lifestyle. He's also our front-running property scout and is often the first person on the ground when targeting new markets and opportunities. Omar is an expat based in Panama City, Panama.