For its striking architecture, deep history, and cultural sophistication, Buenos Aires has long been touted as "the Paris of South America."
Today, though, thanks to worldwide media coverage, it's even easier to draw comparisons between the gilets jaunesdisrupting the flow of business in The City of Light… and angry porteños taking to the streets in the name of educational reform, women's rights, budget cuts (the list goes on)…
Remember, though, that neither of these cities is a war zone.
Beyond the scenes you see on TV, life continues as normal… as Colin Noden, who recently spent time scouting property in Buenos Aires, reports today.
I won't spoil what Colin has in store for you below… but—be warned—the area he talks about today is a sought-after neighborhood in B.A. In other words, it doesn't come cheap. Then again, we're not talking Parisian price tags, either…
Over to Colin…Stone saws… mallets… and the endless clatter of trucks…
It feels like I'm on the edge of a quarry. But, right now, I'm on my balcony in the Soho area of Palermo, Buenos Aires, where renovations are happening all down the street.
A few blocks from me are the bones of new high-rise condo buildings. The sales images show open modern concepts with large balconies facing the parks and the La Plata river beyond. A few workers are always there, tinkering on the top floor.
Public spaces are fenced off with signage announcing city renewal projects. So far, all I've seen are trucks full of debris coming from them. At least this steady activity means steady work for demolition crews.
This part of the city is one big construction and renovation zone.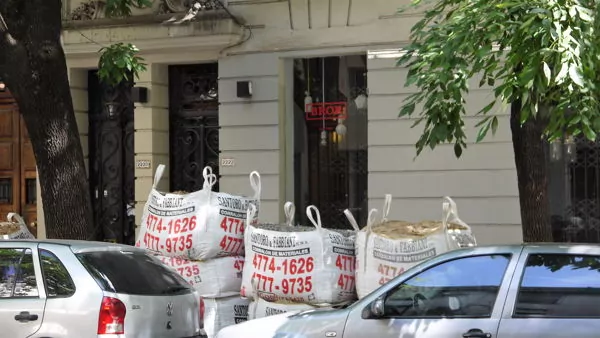 This isn't the picture I expected as I prepared for my trip. I'd read reports of 20,000 people demonstrating… politicians being charged with corruption… the president warning of an IMF austerity wake-up call… and unions planning for more disruptions. I expected everything to be on hold.
So, what's going on with all this activity, and why?
I've got to stop believing the international press reports. When I questioned my host, he just shrugged and said:
"Oh yes, we have many protests. Some are genuine."
It seems Argentina is a place where you must apply the adage: Don't believe what they (the press) say. Believe what they (the Argentines) do.
So, what are people doing with real estate here?
My realty contact here is Pericles ("Perry") Economides from Orion Propiedades—an Australian real estate broker who has been helping local sellers and foreign buyers for the last 12 years. I also met an American friend of his who lives here and has invested in the local market.
My local contact is a family man in his 30s who now has three properties. He is typical of the middle class here—working in a job with layoffs announced daily, due to corporate consolidations and efficiencies. He's looking for a safe place for his savings and an income that is not dependant on corporate or government whims. Rental income is better than trusting any bank or investment with savings, and Airbnb offers a reliable payment system.
My wife and I have spent weeks walking the sidewalks of the Palermo area—observing the health of this barrio and chatting with locals. The people here are reserved, but very friendly once a conversation is initiated. They go about their lives. There's no look of anger or fear of the future. You'll have no problem getting opinions on where the economy is going or who is the best leader for the future (or responsible for the past). All conversations seem to end up with a fatalistic and optimistic view that "this is Argentina."
The independent shops are doing OK. Workers have been let go because of the increases in costs. Electricity bill increases are equal to a staff salary. But neighbors are supporting the local vendors with essential purchases and long conversations. This human connection keeps the neighborhoods alive.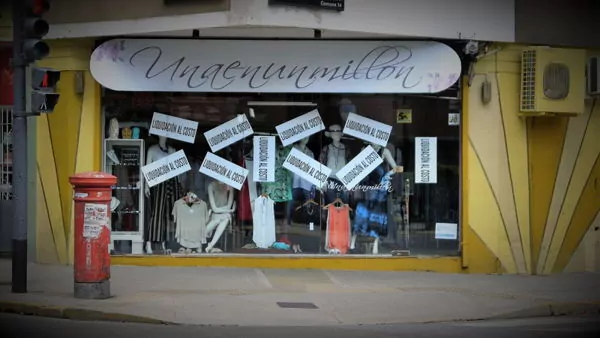 Large malls have chain stores with vanity leases, and the staffing levels are comfortable. There is a strong tourist presence in the malls, taking advantage of familiar brands and a sense of security. The malls don't compete with local stores, and they add cash to the economy through wages.
The big retail winner is the Coto discount chain where cash is king. That's where you'll find families on the weekend—their paychecks divided up into rolls of cash. Baskets are packed with essentials and the exclusive "cash only" sales items. If you go to any Walmart in North America, you'll see the same kinds of baskets.
The bars and restaurants have a steady flow. Coffee shops serve as offices and social gathering spots with hour-long conversations over an espresso and a cookie. Happy hours start around 7 p.m. with a beer, sipped for another hour. Lots of smiles, handshakes, and a kiss to the cheek—the mood is positive.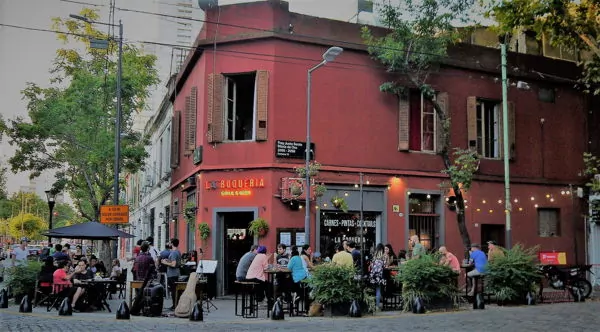 Palermo is a golden zone—and a tourist magnet. On the streets, too, are university students, millennial entrepreneurs, and seniors with iGen grandchildren guiding them down the sidewalk for the Wednesday sales.
It's a place where a visitor can still live like a local. Each section of Palermo has a unique identity—just choose the one that fits you. For our stay, we chose Soho. It prides itself for being inclusive, and it only took us a week to be recognized and accepted as part of the neighborhood.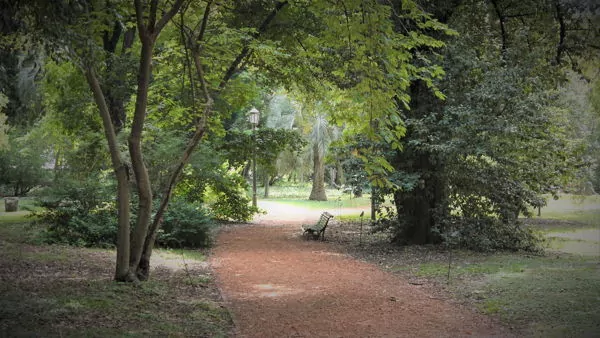 What To Look Out For In This Market 
There's no denying the energy of renewal and investment that is going on in this neighborhood. But Perry has shared some of the negative aspects that helped put things in perspective:
Listings are increasing as owners need cash. But they are insulted by lowball offers and walk away. There is not a traditional North American ask/bid dynamic in the sales process here. A realtor's experience is essential for a good deal.
Monthly maintenance costs are rising because of the elimination of essential service subsidies and 48% inflation.
Property sales are in USD, but taxes are in Argentine pesos. So, down the line, even if you sell your property for the same price you acquired it, you'll likely have to pay capital gains tax (currently 15%) because of today's devalued peso.
A successful purchase here demands that you come in with open eyes, clear intentions, and an exit game plan.
I see today's Palermo as a third-wave opportunity.
The first wave was the urban pioneers who invested in a decaying area. Palermo had charm but no resources.
The second wave was from city planning. They protected the area with things like height restrictions and mixed use.
This third wave is taking on some practical problems.
Perry's friend explained it to me: You might buy a unit in a historical building and renovate it. But, if the unit above is rented out or owned by someone unwilling to upgrade, then your unit is under threat from water damage, electrical failure, and plumbing backups.
Meantime, someone out there is buying up whole buildings and renovating them. And these finished units are in demand.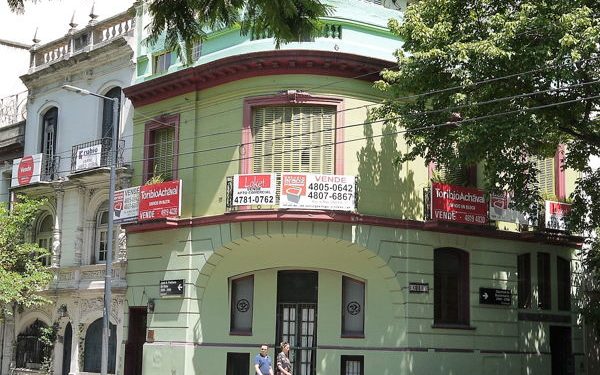 On our walks, I've noticed that the finished buildings in our area are the ones with people waiting outside for viewings. These buildings have the "wow factor" that Perry says is necessary to sell in this market. Historical charm. Low levels. Hidden gardens. And complete top-to-bottom infrastructure upgrades.
My local contact has just bought one of these fixer-uppers. There's no such thing as getting a good deal. A reduced price means that there is a surprise waiting somewhere—red tape, unreliable material sourcing, worker shortage, and utility upgrades. His was a gas hook-up. Move-in date has gone from March to maybe sometime in the future.
But, buying a renovated unit may be a smart move in the long run. You have a protected area that's in high demand. You have interest from locals and expats wanting to spend some bohemian years in Soho. Or this could be your own personal adventure—with rental income and/or profit at the end.
Renovations are going on at a steady pace here, but, with only so many heritage buildings left, inventory is limited.
What's Available Right Now?
To give you an idea of what's available in the area, here are some sample listings that Perry shared with me:
In Soho, a three-bedroom apartment with office space and two terraces. Property is approximately 200 square meters and has a large integrated kitchen with lots of natural light. All rooms have access to terrace/outside area. Price: US$850,000.
Also in Soho, a 91-square-meter, three-bedroom apartment with living/dining room and three bathrooms. All rooms have balcony access. The property is one of several residential units currently on the market with swimming pool, gym, grill facilities, garages, and storage rooms available. Price: US$400,000.
A two-bedroom apartment of 81 square meters with two bathrooms (plus one en-suite), kitchen with office, garage, and storage room. The building has a tennis court, sauna, gym, swimming pool, gardens, multi-purpose room, laundry room, and 24-hour security. Price: US$590,000.
On Soria St., in a quiet area, this 127-square-meter apartment shares a building with just two other units. It has a kitchen (with triple-height windows), laundry room, living/dining room, two bedrooms, and patio. Located four blocks from Plaza Armenia, this is the heart of Soho with plenty of restaurant and entertainment options. Price: US$540,000.
In the neighboring barrio of Recoleta (another area sought-after by tourists and expats), a 112-square-meter apartment close to cafés, restaurants, and art galleries with easy access to local transport. The property has kitchen, laundry room, living room/dining room, two bedrooms, two bathrooms, and service room with its own bathroom. Price: US$350,000.
For queries on any of the above properties—or to find out about other opportunities around Buenos Aires—you can follow up with Perry here.
Colin Noden