Plus: Holding Real Estate In A Roth IRA… And Finding Paradise In Mexico
As a real estate investor seeking out property deals in different countries around the world, one of the things that I pay a lot of attention to is the performance of the currency in the market where I'm considering investing. While a currency's performance is not necessarily a deal breaker, it can transform a good deal into a great deal… if the timing is right and luck is on your side.
All that said, I do not advise you to try to time currency exchange rates when investing in real estate. No one can reliably predict which way exchange rates are going to move. But if you are presented with an investment opportunity in a country whose currency has moved dramatically in your favor, then you should pull the trigger.
One of the real estate markets that has my attention now is Brazil, specifically, the region along the northeastern coast. At the time of this writing, the Brazilian real is trading at 3.59 reals against the U.S. dollar. That is, U.S. dollar-holders have seen their buying power in Brazil increase by almost 150% since 2011.
There may never be a better time to purchase real estate in Brazil.
In fact, we've identified an excellent pre-construction investment opportunity along Brazil's northeastern coast that I believe makes sense from an investment perspective and capitalizes on today's currency rates.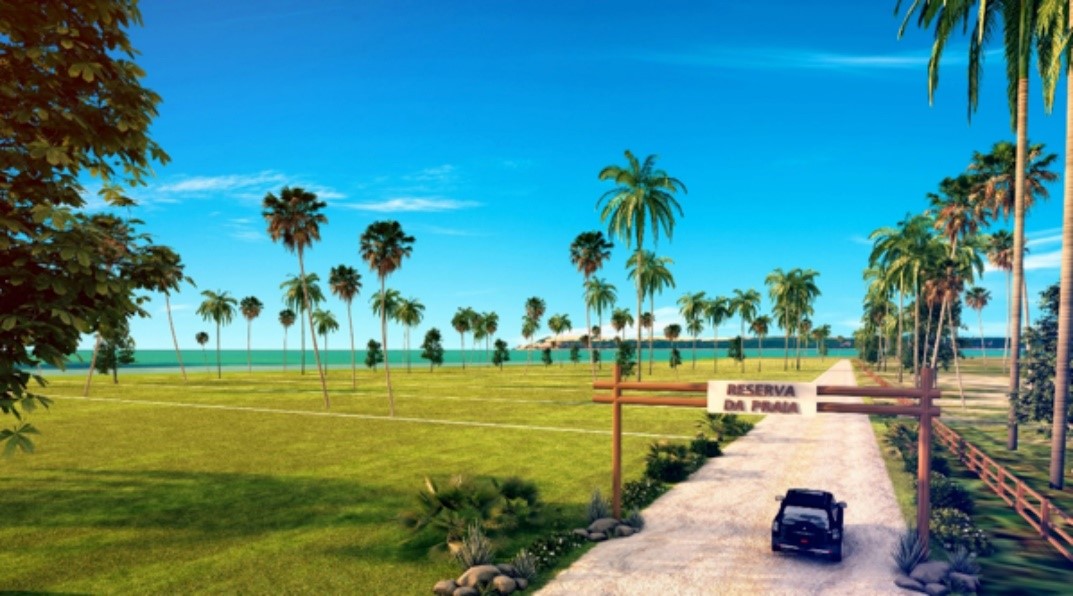 Entering Reserva da Praia
Reserva Da Praia: Prime Beachfront Lots At A Deep Discount
The project I've got my eye on is Reserva da Praia, which means "Beach Preserve" in Portuguese. It's located at Retirinho Beach in the state of Ceará in northeast Brazil. It's just 15 minutes from Canoa Quebrada, one of Brazil's major tourist destinations, known for its beach resorts, world-class restaurants, and vibrant nightlife.
In addition to residents having direct access to miles of golden-sand beaches, the development will feature a heliport, an on-site convenience store and bakery, walking and running trails, a soccer field, a kid's playground, and a covered social area for outdoor grilling with panoramic ocean views. Plus, residents will be able to enjoy a beach bar and restaurant, along with a beachside cabana specifically for massages.
Moreover, the developer plans to have a beach landing area for fishing boats where local fisherman can sell their daily catch to residents of Reserva da Praia. Essentially, the development will have its own fish market.
The developer has structured the development of Reserva da Praia in three phases, expected to be completed within four years.
In Phase I, which consists of 50 prime beachfront lots, the developer is focused on the implementation of road infrastructure and installing electricity to each individual lot. Furthermore, in this phase the developer will complete the planned amenities.
To date, significant progress has been made in Phase I. The roads are in place behind the beachfront lots, along with access roads to the local town and main highway. Plus, all 50 lots in this phase have been fully subdivided and are approved for title. Electricity is currently being installed to each lot, and the beach bar and restaurant is fully operational.
The focus in Phase II will be the development of a subdivision within Reserva da Praia which will consist of 200 beachfront and ocean-view lots. Phase III is the development of an eco-friendly boutique hotel on 500 meters of beachfront.
Phases II and III are still in the early stages of development. With regard to the Phase II lots, the developer is still awaiting the necessary approvals for titling purposes. For Phase III, the developer is currently in negotiations with an experienced hotel and resort operator, and they project that the hotel will be built and in operation by 2018.
The Investment Opportunity
As of now, the developer has released the 50 beachfront lots in Phase I for sale to the general public.
All of the lots are huge by Brazilian beachfront standards, where beach lots are often less than 500 square meters. Lot sizes at Reserva da Praia range between 1,750 and 3,500 square meters (.44 to .875 acres). Each lot has 15 to 25 meters of ocean frontage and sits up on a short bluff overlooking the beach… which is important when it comes to rising seas and coastal erosion.
The initial Phase I pricing for these beachfront lots start at 197,718 Brazilian reals. At today's exchange rate that's around US$55,000. The prices, depending on the size, go up to 264,550 reals (US$73,700).
Prime, direct beachfront property for US$55k is unheard of nowadays. It's only the current strength of the U.S. dollar that has created this anomaly.
And it's not just the purchase price where you benefit from the exchange rate. If you choose to build a home, you can take advantage of the reduced labor and materials cost.
For example, at today's exchange rates you could build a 95-square-meter (1,022-square-foot) home with a swimming pool for US$43,600. Or you could build a 140-square-meter (1,500-square-foot) home with a swimming pool for US$67,000.
So, realistically, you could have a beachfront home with a pool at Reserva da Praia for less than US$100k.
Choose Between 0% Financing And A 10% Cash Discount
For a limited time, the developer is offering our readers an exclusive financing option. The terms are 25% down, 0% interest, with the balance to be paid in 30 monthly installments. Plus, they are offering a 10% discount for buyers wishing to pay cash in full up front.
Again, lots start at around US$55,000 at today's exchange rate.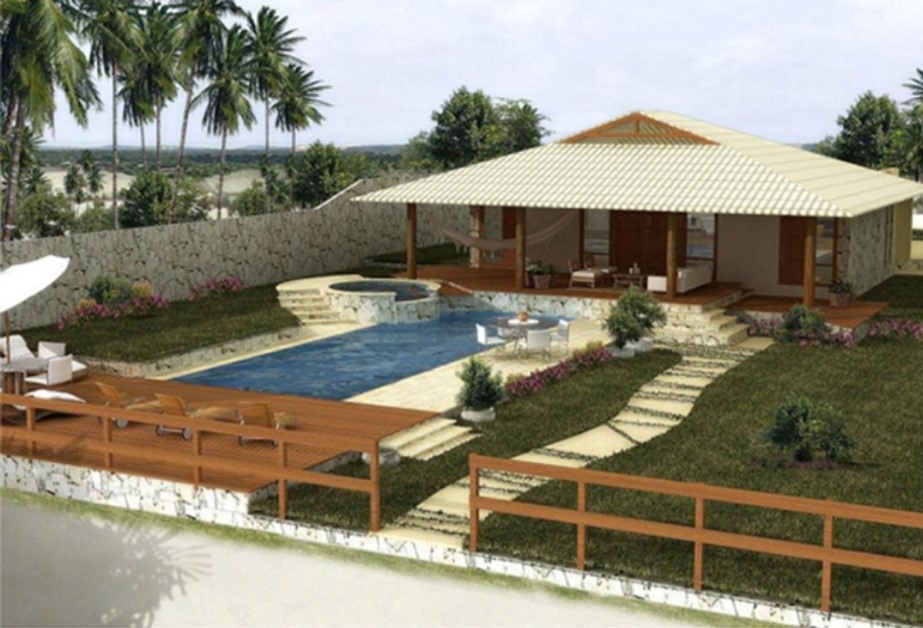 A dream come true, for under US$100k (artist's rendering)
Why I Like Reserva Da Praia As An Investment
Diversification: This investment gives you several levels of diversification. As you know, real estate diversification comes in three parts:
The location of the property (the market or country),
The currency the property is traded in,
The property type.
In this case, you have an investment that is located in Brazil, valued in Brazilian reals, and at the moment the property type is development land (with the possibility of becoming a short-term rental if you decide to build a home on it).
Currency Advantage: Right now the Brazilian real is trading at over 3.59 reals to 1 against the U.S. dollar. If you were to purchase a lot at the current exchange rates and the real rises back to two to one against the dollar—where it was fairly recently—then you would instantly gain almost 80% in U.S. dollar terms. And if you built a home on your lot and put it on the short-term rental market, your rental returns would increase as well, given the same scenario.
Inherent Capital Appreciation: In addition to almost doubling your money from the currency perspective, there is a straight-up capital appreciation play here as well. More specifically, up and down the coast of northeast Brazil the average price per square meter for beachfront lots is around 300 reals. Right now in Reserva da Praia, the average lot price is 100 reals per square meter… and once Phase I infrastructure and amenities are all in place, then the lot values will increase in value. So there is plenty of upside from a capital appreciation angle.
Project Progress: I like the fact that the developer has made significant progress with Phase I infrastructure. Roads are in place behind the beachfront lots and there is access to the local town and main highway. Plus, electricity is currently being installed to each lot.
Project Finances: At Reserva da Praia, the developer owns the entire site free and clear. In this part of the world you'd have a difficult time finding any beachfront property with a clean and clear title, and at this time, all 50 retail beachfront lots are sub-divided and approved for title. That is, upon purchase of your lot, the title deed will be transferred into your name.
Future Potential: Given its proximity to one of the top tourist destinations in northeast Brazil, I definitely see this as a potential short-term rental property down the line. In this case, you would need to build a home on your lot. And in order to take advantage of the reduced labor and materials costs due to the strength of the U.S dollar against the real, you would need to act on this now.
Here's My Recommendation For Reserva da Praia
The play that I am recommending here is to buy and hold for appreciation. In my opinion, it's the simplest and most straightforward play.
Further, your holding costs are minimal as annual property taxes are just US$50. Plus, there's the possibility of almost doubling the value of your investment from either a simple change in currency or in capital appreciation… or both. This is what I consider an as-good-as-it-gets type of investment.
This investment is ideal for an investor looking for a low-cost, hassle-free way to add some levels of diversification to their investment portfolio with the strong possibility to earn double-digit returns.
To ask a question, get an information package, or make a reservation, get in touch here.
And I believe it's critical that you act on this sooner rather than later. When I introduced this offer to readers of Global Property Advisor, the exchange rate was 4.02 Brazilian reals per U.S. dollar. Today, it's 3.59 reals per dollar.
This could be a sign that the dollar is leveling off, and in fact, we know it can't go up forever.
As I mentioned earlier, no one can reliably predict which way exchange rates are going to move. But the time to act on this is now… especially if you plan to build for yourself, or for the short-term rental market.
The worst case scenario for this investment, if all other projections fail, is that you've bought a beachfront lot and built a second home in Brazil for less than US$100,000. Even if nothing else holds true, you've gotten a killer deal.
So if you think this investment makes sense for you, then you should pull the trigger on this right away. Click here for more information.
Lief Simon
Editorial Director
Global Property Advisor
Editor's Note: Lief Simon has been making money investing in property around the world for more than 20 years. Thanks to his offshore investment strategies, Lief and his wife Kathleen have been able to secure their future retirement with homes in four diverse countries. In addition to these properties, the couple has amassed a multi-million-dollar portfolio of income-generating real estate around the world.
Lief shares his experience and knowledge, as well as details on the best current investment deals on offer in the world's most appealing property investment markets, with his Global Property Advisor subscribers.
Right now is a better time than ever before in our lifetimes to be investing in foreign real estate thanks to the strong U.S. dollar, markets in and just emerging from crisis, and fast-growing middle classes and infrastructure advances in key locations.
Join Lief and his subscribers as they strike it rich in the biggest real estate Gold Rush in history…
***
Letters To The Editor
Lee,
I am 64 years young and I've had my Roth IRA tied up for over a year now in a money-losing annuity.
My question is this: is it different purchasing a 'home' outright for overseas retirement using a Roth account, when compared to a pre-tax (normal) IRA?
It is my understanding that as you withdraw funds, already taxed, they can be used as personal funds, as if they came from a bank account. Is my understanding correct?
Would this eliminate the need for setting up self-directed IRA with a corresponding LLC?
Thanks,
Melissa
Melissa touched on a number of questions here, and I'll address them one at a time.
There is such a thing as a self-directed Roth IRA, and it is permissible for that Roth IRA to own property.
The advantage of holding a property in a Roth IRA is that any income it generates—or capital gain that you realize—can be tax-free at the time you withdraw your funds from the IRA. But as with any IRA, you cannot use the property for personal use.
Alternatively, you can withdraw funds from a Roth IRA in order to purchase a property abroad. This is called a distribution, and to be a Qualified Distribution (non-taxed), you must be over 59 ½, and the IRA must have been opened for five years, according to the IRS. If you buy a property with an IRA distribution, it's just like a normal purchase… any income it generates and any capital gain will be subject to U.S. taxes.
The LLC that's usually paired with a self-directed IRA is used to facilitate purchases that you make with your IRA funds. Its functionality is the same whether or not it's a Roth.
Personally, I would hold a property within an IRA if I didn't intend to use it myself. That way the income and gains will grow tax-free.
***
Hello,
We have attended several of your conferences, and you and your group are the reason we looked for a retirement home overseas. We visited several places in Mexico.
We flew into Mérida, Mexico and quickly felt very comfortable. We hired two realtors and ended up buying a home one row off the beach in nearby Progreso.
We have ended up with a beautiful home, with a pool, for under US$100K, less than 100 feet from the beach. We can travel into Mérida to shop at Costco or Walmart, and we have several nice supermarkets here in Progreso.
We highly recommend this area in the quest for the ultimate retirement destination in Mexico. The cost of living is low enough a couple can live very comfortably on US$1,500 a month. We do!
Thank you for all you do to help people make that giant leap. We truly have leapt into paradise.
Larry and Melinda
Mexico
Have a question? You can write to Lee here.