Editor's Note: Breaking news from Panama City, Panama: Lief Simon and the Global Property Advisor team have just secured access to an exclusive, insider-only new deal.
This opportunity has been years in the making.
It's in a market that we consider to be the ultimate investment haven, where we have decades-long partnerships with experts in the field in place.
Through those partnerships, Lief and the team have secured access to this brand-new deal.
Today, I turn things over to Mónica Linares, Managing Editor of Global Property Advisor, to explain.
But before I do, let me preface by saying that this is not your everyday investment opportunity… It's the result of having the right connections, trust established over years, and precise timing.
It's the type of offer that only those with a seat at the table can access. Read on to discover how you can pull up a chair…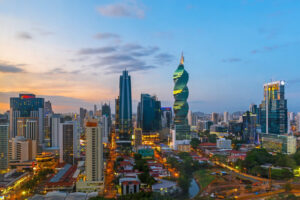 Dear Overseas Property Alert Reader,
Panama is one of the world's best places to invest overseas.
It's been on Live And Invest Overseas' radar for more than 20 years, and it still measures up from an investment perspective:
· There's no exchange rate risk since the U.S. dollar is legal tender.
· Its government provides outsized incentives for foreign retirees.
· The Panama Canal and other mega-infrastructure projects ensure global importance and economic stability.
· It has a solid legal system that protects property rights.
· The property market is ripe with opportunity.
Throughout the years, we've maintained strong relationships with local property experts…
Phil is one of them.
He has put us on to great pre-construction deals in prime Panama City markets, and now he's providing an investment opportunity in foreclosure properties.
Why This Is A Big Deal
Foreclosure properties have been surrendered to the bank because the owner was unable to make their mortgage payments. They're usually handed over for less than the actual value of the home.
Phil and his team have worked hard for years, going through an extensive vetting process, to gain the ability to sell foreclosure properties with a renowned international bank.
He will soon be granted access to limited-time, exclusive, below-market-value listings… and my Global Property Advisor Members will have the first pick of them.
Sample Listings
I can't publish the full list, but here's a sample of what it features to give you an idea of the caliber of real estate on offer:
· An 83-square-meter apartment on the 14th floor of a building right by Parque Omar in the middle of Panama City. For US$135,000, this apartment would be a successful long-term rental for a couple or small family because of its central location.
· For just US$180,000, you can get a 116-square-meter apartment 5 minutes from the beach, right by a popular resort in the Panama City Beaches stretch of coast. Ideal as a full-time second home or for part-time use and part-time rental unit.
· An incredible 624-square-meter home in David, Chiriquí Province, the third-biggest city in Panama, and just 45 minutes away from Panama's highlands. This has an outstanding bargain price of just US$185,000.
· If you are interested in building homes in the expat haven of Boquete, Chiriquí Province, 3,000-square-meter lots are available for US$90,000.
The best part is that these prices are negotiable.
There's a high chance that the bank will accept a lower offer… Phil tells us it's not unusual to get these properties at a 20% discount from the listed price.
How It Works
1. Subscribe to Global Property Advisor to gain access to my full report covering this exclusive opportunity. This also allows you to put your name on Phil's hotlist to get first notice of the availability of these incredible property bargains. Go here now to subscribe to Global Property Advisor.
2. Select the property you'd like to buy from Phil's list.
3. Inspect the property. Foreclosure properties might require more initial investment in terms of repairs and renovations. If you can't make it to Panama to inspect a prospective purchase yourself, Phil's team can show you the properties virtually.
4. Make an offer. The bank will take anywhere from 7 to 30 days to respond to it. If your offer is accepted, a contract will be drafted, and any additional information will be requested.
Upsides Of Investing In Foreclosure Property
Aside from bargain prices, buying foreclosure property can open the door to financing.
This is not always easy to get as a foreigner in Panama, but with these properties, it's a possibility. Banks even have ways to expedite financing requests when you're purchasing bank inventory.
With foreclosures, even though the approval of the offer can take longer than when you buy resale or new construction from the developer, financing approval and processing of paperwork (preparation and registration of deed) can be a quicker process compared to buying property from a typical resale.
You'll also have access to more competitive interest rates.
The typical down payment requirements for foreigners on a resale property are usually 30% to 50%, but with foreclosures, they can be reduced to 10% to 30%.
Banks are also likely to be less stringent with the buyer qualification requirements to expedite the process.
Get In Touch Now
There's no time to waste. These are bargain properties in a prime global real estate market, and they will be snapped up quickly.
To get access to my full report on off-market Panama City property with massive discounts, subscribe to Global Property Advisor here now.
This also lets you put your name on Phil's hotlist, giving you access to these incredible property bargains before anyone else.
Sincerely,
Mónica Linares
Managing Editor, Global Property Advisor