Over the last couple of years, prices in some areas of Lisbon have pushed beyond 10,000 euros a square meter…
Considered in the context of European capital city prices, that's not necessarily a crazy reality… but in the context of Portugal, it is.
But it's also a superficial interpretation of this market.
Those prices are for the highest-end renovated product available at Lisbon's best addresses…
The properties primarily target foreign buyers shopping not so much for a piece of real estate as for an investment that qualifies them for Portugal's Golden Visa residency program.
In Lisbon, you need to invest 400,000 or 500,000 euros, depending on the age of the property, to qualify for Golden Visa status. Not surprisingly, many developers renovating buildings in this city have taken to pricing their apartments for sale right at that price.
People buy, not because they are getting a great deal on an apartment, but because the apartment gets them a visa. The per-square-meter price is almost irrelevant.
Here's the important thing to understand—those apartments are just a small segment of this scene.
Yes, the Golden Visa Effect means that the best neighborhoods are expensive by local standards, but many other areas of Lisbon are still good values… especially if you're up for a renovation project.
The key is to look at up-and-coming neighborhoods rather than the higher-profile spots.
In the lower-priced neighborhoods of this city you can find apartments for as little as 2,000 euros a square meter…
Today, Marta Vouga introduces you to two attractive areas of the Portuguese capital—one at the luxury end (perfect for those in pursuit of a Golden Visa)… and one up-and-coming neighborhood where you're still at the heart of Lisbonese culture…
Lynn Mulvihill
Editor, Overseas Property Alert
Luxury Vs. Budget—Two Of Portugal's Most Attractive Neighborhoods
The opportunities for real estate investment in central Lisbon right now are many, varied, and compelling.
In terms of neighborhoods, there's a wide variety to choose from, each one with its own special character and charm.
Today, I'd like to walk you through two attractive lifestyle options… one luxury and one that's more budget friendly…
Let's look at the high end first…
Luxury Neighborhood: Avenida da Liberdade 
Built between 1879 and 1882, Avenida da Liberdade resembles the Champs Élysées in Paris. About 90 meters wide and over one kilometer long, it's unquestionably one of the fanciest, trendiest locations in the capital—and, right now, the most expensive neighborhood to live in Lisbon.
Along with Chiado and Príncipe Real, Avenida da Liberdade is a top option for those who have a higher monthly budget for rent (or a purchase) and want to live in one of the most fashionable areas in the heart of Lisbon. Liberdade is the biggest financial center in Lisbon and one of the main commercial arteries in the city—it's coveted by international luxury brands. Walking along the avenue, the largest boulevard in the city, you'll find upscale shops, designer clothes, 5-star hotels, small gardens, and cozy terraces filled with green kiosks (all similar on the outside, but each kiosk has a particular theme and a specific type of food), large companies, historical buildings, restaurants, banks, prominent theaters (including the famous Tivoli—a true cultural landmark in Portugal), and, of course, a parade of luxury jewelry and accessories… all within a few minutes' walk of each other.
The chic bars and cafés in the area, located on the path lined with grass and trees, provide ample dining choices and create a superb ambiance. The traditional Portuguese sidewalk contrasts with the green gardens throughout this avenue that is considered the 10th most luxurious in the world.
Acclaimed as one of the top references for good taste and well-being, this privileged location brings together the elegance, glamor, and charm of one the most cosmopolitan capitals in Europe. And, even though property prices are rocketing in Portugal and homes in this part of the city are beyond the reach of most locals, it continues to be increasingly sought by the Lisbon elite, foreign investors, and other expats that find in these luxury apartments costs that are still half the price of their home cities.
The average cost of renting a small shared room in Avenida da Liberdade is a minimum 500 euros a month (US$555)—the same cost of a T0 (one-bedroom studio) or a T1 (one-bedroom apartment with divisions) in other parts of the city. You will not find a T1 or a T2 for less than 1,000 euros (US$1,100) per month in this neighborhood. This is the luxury homes segment. The prices per square meter in Avenida da Liberdade are the most expensive in Lisbon, with values ranging from 6,000 euros (US$6,656) to 10,000 euros (US$11,100) per square.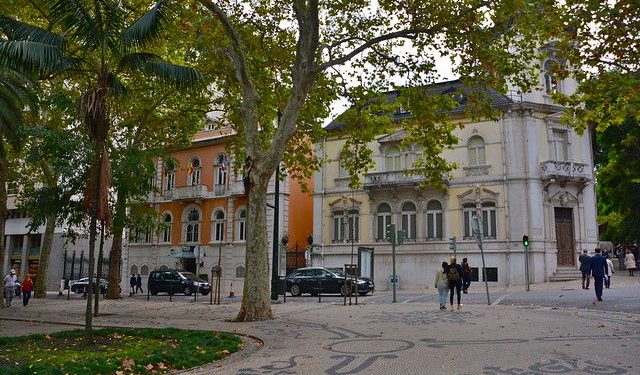 Attracting hundreds of tourists from all over, Avenida da Liberdade connects Marquês de Pombal (at the top) and Praça dos Restauradores (at the bottom). If you enjoy people watching (and watching a flow of buses and taxis up and down the street), you'll love living here. The avenue has its own metro station: Avenida (blue line) and it's just a few minutes' walk from the metro stations of Restauradores (blue line) and Marquês de Pombal (blue and yellow lines).
Following are some current properties for sale:
This one-bedroom apartment: (T1) of 47 square meters has been completely refurbished and is sold fully furnished. It includes fully equipped kitchen, living room, bathroom, and parking area. Price: 233,000 euros (US$260,830).
In "The Nest"—a development of 15 apartments—is this two-bedroom (T2) apartment: of 96 square meters. With a luxury layout inside, outside are green courtyards and gardens, terraces, spacious balconies, and private pools. Price: 775,000 euros (US$867,400).
Renovated three-bedroom (T3) apartment: in a charming building between Avenida da Liberdade and the recently re-opened botanical gardens. Area is 84 square meters. Price: 684,370 euros (US$765,740).
Affordable Neighborhood: Martim Moniz
The most multicultural area in Lisbon, Martim Moniz, is a true mix of worlds. The neighborhood underwent a huge transformation in past years and its bad reputation and marginality were transformed into a cosmopolitan area filled with kiosks, grocery shops, and beautiful pavements dotted with well-rounded trade where you literally bump into dozens of different nationalities every step of the way.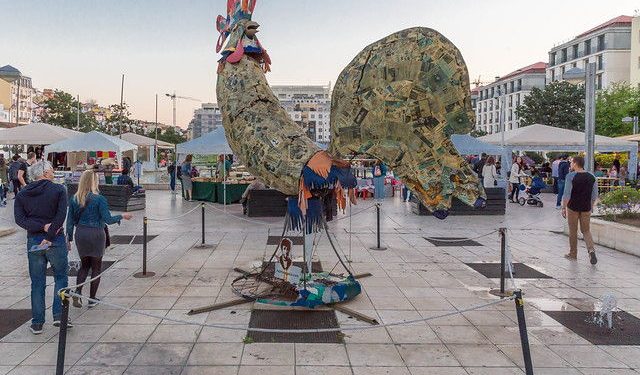 Home to a strong presence of Chinese, Indian, and African natives that live and do business here, you can sample flavors and meet cultures from all over the world, without leaving Lisbon, and also buy products at very cheap prices.
It's hard to put an average price on property in Martim Moniz as values are moving. But the price per square meter here is generally slightly less than Lisbon's average of 2,581 euros (US$2,867) per square meter.
On the rental side, you can rent a T0 or T1 for 450 euros to 650 euros (US$500 to US$720)—a relatively low price for Lisbon. Occasionally, you'll find a T0 for 400 euros (US$445) or less, which is almost impossible to find anywhere else in the capital. But these prices are also on the rise, especially after the remodeling of the Martim Moniz square that has attracted many to this area.
The square—a tribute to the knight Martim Moniz who sacrificed himself to help King D. Afonso Henriques conquer the city in 1147—is a must for those who wish to sample dishes, fruits, spices, and all sorts of specialties from Asia, Africa, Europe, and America. This public open space has activities all day long, including live music and a fusion market. It was the first place in Lisbon to hold a street food festival (bringing together more than 30 concepts of fast and mobile food) and is the preferred place for community gatherings.
With its own metro station, Martim Moniz (green line), it's well connected to the rest of the city.
Nearby neighborhoods can be even more affordable. If you're on a budget, be sure to check out the neighborhoods of Marvila, Intendente, and Olaias.
Here are some current samplings from the Martim Moniz area:
Recently refurbished and with great views of the city and castle, this two-bedroom (T2) apartment: is 65 square meters. Ideal for short-term rentals. Price: 365,000 euros (US$408,420).
This 40-square-meter T1 apartment: comes refurbished and fully furnished. With one bedroom, living room, kitchen, bathroom, and balcony, it's two minutes' walk to the Martim Moniz metro stop. Price: 187,900 euros (US$209,220).
Opportunity to combine two apartments (T1 and T2): in a building of fully-furnished apartments on the hill close to the castle. Finished with top-quality materials, total area is 80 square meters. Price: 460,000 euros (US$514,680).
Note that both Avenida da Liberdade and Martim Moniz are good for those who have mobility restrictions—they are both relatively flat—and extremely expat-, pet- and LGBT-friendly.
Marta Vouga