How

To

Grow

Your

Nest

Egg

And

Protect

Your

self

From

This

"

Apocalyptic

"

Event
I don't like to cause unnecessary anxiety.
But there is something going on that I'm sure you've noticed.
A vital industry is experiencing plummeting supply and soaring demand.
It's a near perfect storm that's driving prices sky high.
Bill Gates and Jeff Bezos are just some of the mega rich that are positioning themselves to make another fortune from this coming crisis.
Last year, investment in this industry increased 85% to US$52 billion.
This is nearly six times more investment than in 2016.
There's big money being made.
It might be time to position yourself to profit from it as well.
What the Governor of Bank of England Andrew Bailey recently referred to as an "apocalyptic" event is the impact of growing global food shortages and long-term food price spikes.
This isn't just affecting developing countries.
Surveys from bankrate.com report that the average American spends 12% of their annual budget on food.
The entire Agricultural Price Index is up 41% compared to January 2021. It's the biggest jump in 40 years.
Food Price Inflation Is Expected To Keep Increasing
Fertilizer prices have more than trebled in the last few years, up 80% in 2021 and already up 30% more in 2022.
To avoid local shortages, 35 countries now have food export restrictions in place, including Argentina, Turkey, Indonesia, Hungary, Kazakhstan, and even Russia has instituted an export tax on food.
Logistics and global conflict have disrupted supply lines. Crammed shipping lanes, overcrowded ports, and global conflicts have limited supplies of some basic food stuffs to entire regions of the world.
Russia's war has effectively held 12% of the global wheat supply hostage.
Increased gas and shipping prices add additional production and shipping costs to the mix.
The United Nations reports that 40% of the arable land is now degraded and produces less food every year. New, smarter, and more sustainable farming practices must be used.
Conventional field agriculture uses a lot of water. Weather patterns are getting so erratic we cannot rely on rainfall irrigated crops anymore. According to Drought.gov, as of May 17, 2022, 44% of the United States is experiencing drought, and the entire country is potentially facing a future of perpetual drought cycles.
See the U.S. drought map below. Any part that isn't white or blue is experiencing water shortages. Dark colors indicate severe drought.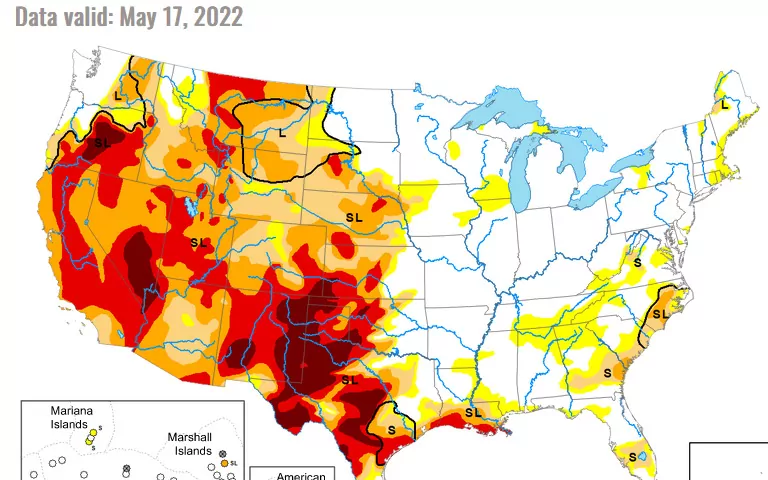 California will be unable to irrigate its field crops in a few years at this rate.
The solution to rising food prices isn't to the cut back on the amount or quality of food that you eat.
Nor is it practical for most people to grow all their own food. No matter how satisfying growing your own garden can be, the time and space required is prohibitive for most people.
Never eating out in a restaurant again could save you money, but do we want to live like this forever?
Some people will tell you that in times of spiraling costs you should invest in riskier stocks to attempt to lock in higher returns to compensate for your increased expenses.
None of these solutions are satisfactory. You need to proactively get ahead of the problem.
One great way to avoid the impact of food costs rising sharply is to invest directly in a managed sustainable farming operation.
It's low risk if you pick the right investment. As food prices rise, your profits grow with them.
Why Food Production Is A Viable Long-Term Investment
Inelastic demand. No matter how expensive it gets, people must eat every day.
Population increases. The FAO predicts that global demand for food is set to increase 70% by 2050.
Climate change continues to put pressure on conventional farming practices in many places across the globe.
The growing global middle class wants higher quality foods than most of their parents enjoyed. This includes more protein, fruit, and "health foods."
In food investments, as with all investment types, there are good options and there are stinkers.
Criteria For Selecting A Food Production Investment
Will you be buying shares in a publicly traded food company or investing in a private operation? Stock in a public company is more easily sold quickly, but by the time a company is established on the stock exchange its annual dividends are around the stock exchange average of 2.5% per year. More money can be made by investing directly in food production.
There must be a professional farm management team in place with experience managing large operations. You don't want to be involved in the physical growing or harvesting of your crops.
Is there a steady market for your produce? Once it's grown you have to be sure the crop can be sold at a consistent price.
Don't invest in commodity crops like corn or wheat. The money is in high-quality niche foods like premium fruit and nuts, spices, niche vegetables, or other health foods.
Will you own the land and/or the equipment? It's a big advantage to own the land or at least the equipment as it gives you a physical asset.
Will you own the water rights and/or use high-tech, low water farming methods?
Does the farming operation have a competitive advantage of a technical, genetic, or locational nature?
Make sure to plant crops that don't require big off-farm fertilizer inputs.
Investment Opportunity
One of the largest agricultural real estate development companies in Europe is successfully planting and managing orchards to supply the rapidly growing global demand for almond nuts, milk, and flour.
This operation in Spain uses sustainable planning and irrigation techniques.
Their specially bred trees produce 2.5 times what most other orchards do.
The trees are insured, there is no debt on the property, and the management company has ensured ample water rights for the long-term success of the venture.
The management company also owns their processing facilities and has established markets for the product.
Financing is even available at 30% down and balance due over 24 months.
The Deal
Freehold titled almond orchard parcels begin at 7,800 square meters (1.93 acres). The management company plants 50 to 55 trees per 1,000 square meters.
Prices depend on size but start around 90,000 euros. You own the land, trees, and infrastructure.
You'll earn an annual payout for 45 years, during which time management guarantee is in place. The profits are split between the parcel owner and the management company, 80% and 20%, respectively.
Production starts on year 3, and is at full production by year 8 with a projected annual IRR of 12.41%.
Our almond guys have bought the water rights, too.
This investment checks all the boxes in our food investment selection checklist.
You have the chance to get in early for a massive projected payout of over 650,000 euros…
The dollar is so strong at the moment, you get an effective 10%+ discount on this investment due to the foreign exchange rate at the moment.
Click here to get all the information about this lucrative long-term food inflation hedge and profit generating venture.
Con Murphy
Editor, Overseas Property Alert