I first came across the term "pocket money real estate" when I started out in publishing almost 20 years ago. Back then, we put out a weekly e-letter with a handful of current "pocket money" listings from around the world. The rule was that each property could cost no more than US$50,000…
It was a fun read. But boy was it a challenge for the editor to turn up a bunch of sub-US$50,000 property listings every week that weren't piles of rubble…
Cut to 2020 and this kind of property is even harder to find…
But it does exist. And some of the deals we're seeing today—though in limited supply—are far superior to what I remember from those grainy photos of the early noughties…
In the best cases, we're talking brand-new construction just steps from the beach…
When seeking out this kind of "pocket money" deal, here are three important things to focus on…
Currency advantage. As we've talked about recently, North Americans have especially strong buying power in Latin American markets right now—specifically in Brazil and Colombia where the local currency is weak.
Path of progress. Getting onto (and a little ahead of) the path of progress is where you'll find the best deals—and position yourself for better gain.
The right connections. You won't find the best deals searching on the internet. And, in the current climate, you may not be able to get your own boots on the ground for some time. But thanks to Lief's 30 years of scouting global real estate markets and making connections, you can take advantage of the discounts he's been able to negotiate on your behalf.
Ticking all the boxes above, Brazil is one of the top opportunities for investment today where you can still break in from under US$50,000…
The Brazil real continues its downward slide against the dollar. It's now around 5.47 reais to the U.S. dollar (compare that with Q1 this year when the exchange rate was averaging 4.2 reais to the dollar).
The path of progress continues along the world-class northeast coast from Fortaleza to Canoa Quebrada and beyond. Lonely Planet highlighted this area as "a draw for tourists from Brazil and overseas, who come for its beaches, party atmosphere and the spectacular smaller beach spots, rolling dunes and fishing villages accessible from here."
And, our developer contacts in this part of the world have a limited number of beachfront bungalows—with preferential pricing for Live and Invest Overseas readers—starting from just US$47,300.
We've talked about these beachfront bungalows before. But just to recap…
These are all pre-construction units…
The properties are fronted by white-sand beach and just 15 minutes from the international resort of Canoa Quebrada…
Ideally positioned to take advantage of the short-term rental market, your projected net rental yield is 15%…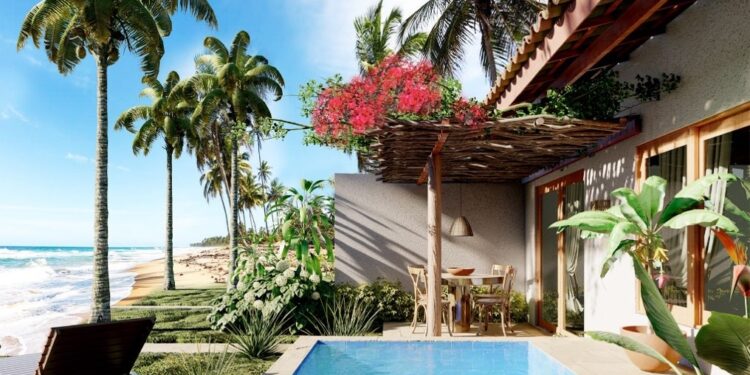 This is a fully turn-key opportunity, too. There's a rental management team on-site to take care of everything for you.
All that's left for you (and your renters) to do is enjoy this laid-back beach lifestyle. On your doorstep is a boutique hotel with a spa and wellness center… not to mention miles of pristine white-sand beach…
Inventory is moving quickly in this part of the world… and prices are going up. It's only a few weeks since the developer released a new phase of bungalows. Today, just a handful of properties are available—with only one left at the lowest price-tag of US$47,300.
If you're at all interested in this once-in-a-lifetime opportunity… on a special stretch of coast… get in touch as soon as possible for more details.
Lynn Mulvihill