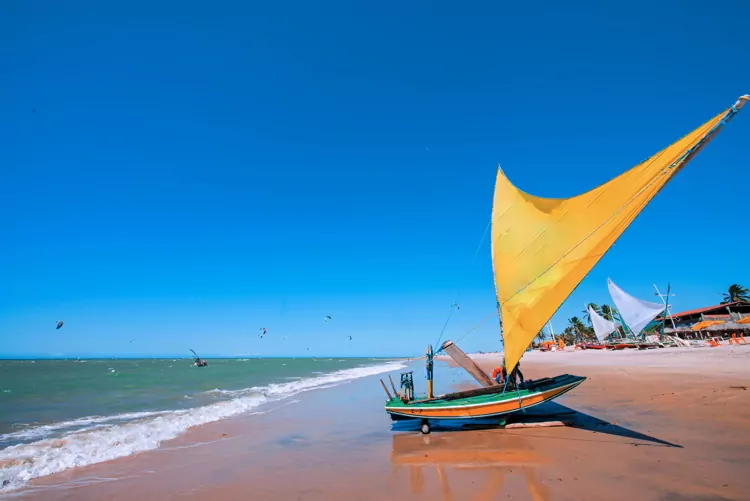 Invest In One Of Brazil's Most Coveted Tourism Destinations
If you think of Brazil, you probably think of Rio de Janeiro first. This city has been popularized in movies and books over the last 75 years. But Rio's population has swollen to 13 million people. Sao Paulo is even bigger, with 22 million.
While full of art and history, Rio and Sao Paulo also have the usual issues found in huge cities, including heat, congestion, and crime. Plus, with this population pressure, property prices have risen dramatically.
This doesn't mean that Brazil is an unaffordable or unattractive place to buy real estate.
Brazil is vast. It's the 5th largest country in the world, with some of the most amazing beaches and inland real estate opportunities if you know where to look.
The trick is to follow the locals.
Upper- and middle-class Brazilians are vacationing and relocating to the northeastern coast because they are fed up with the sweltering summer conditions in the south. They are lured by a better lifestyle and more affordable real estate.
They are relocating to Fortaleza, capital city of the Ceará state, and the towns and villages in the surrounding area.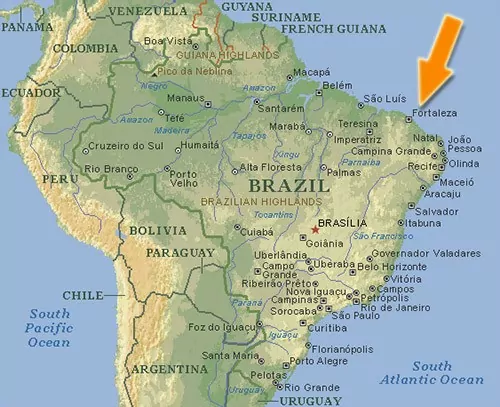 Ceará has miles and miles of pristine beaches with consistent breezes that make the area both comfortable and one of the wind-surfing capitals of the world.
But the secret isn't out yet. That's what I find most appealing about Fortaleza.
It's undiscovered by outsiders.
Foreign investors don't know about the rock-bottom local prices that you can still get fabulous beachfront property for. Property in the city is still quite affordable. The strength of the dollar over the past few years continues to keep prices down. The Brazilian real has lost almost 40% of its value in the last five years.
The best deals on beachfront property can be found when you go 45 to 90 minutes outside of Fortaleza.
You'll find spectacular beaches, nice towns, and quaint fishing villages that are quieter, uncongested, and safe and welcoming. The area isn't blighted by mega resorts, but there are plenty of places to eat and all the services you need close by.
Beach properties cost one-tenth what they would cost in the United States. If you want property on the water close to lovely towns, places where you can have a nice dinner for a few bucks, and where you can relax and be inspired… you have come to the right place.
Another advantage of the northeastern coast of Brazil is that you get no hurricanes. They peel north or south and almost never make landfall in the area.
English-speaking locals are friendly, but my friends have found that those who don't speak English are even friendlier. They go out of their way to help you and are not out to hustle or panhandle you. These are decent, humble people who live how folks lived in the States back in the 1950s.
You don't need to learn Portuguese to live in Brazil, but learning simple phrases will help you integrate into the local community.
The Brazilian economy has more going for it than just tourism…
Brazil borders every country in South America except Ecuador and Chile, making trade in Latin America easy. Brazil is the 6th most populous country on Earth, with a young population of 210 million people that's growing fast.
When purchasing power parity is used, the Brazilian economy is the 7th largest in the world with a relative buying power of about US$3 trillion.
Brazil has a diversified economy, with heavy and light industries, huge natural resource reserves, and a rapidly expanding services sector. Brazil has also proven to be insulated from the war in Ukraine.
Brazil's unemployment rate dropped to 9.8% in May, meaning there are no possibilities of inflationary pressures caused by labor shortages like we are seeing in the United States.
Commodity prices are surging around the globe. This benefits Brazil because it's a huge producer of global commodities including soy, iron, metal ores, sugar, gas, and corn. Even though Brazil is exposed to the rising costs of oil derivatives and other raw materials, the global price surge in commodities that Brazil produces compensates for the price increases in these few categories.
Brazil had a trade surplus in 2021 of nearly 10 billion. For a developing nation to enjoy such huge surpluses is uncommon, especially after a crisis like COVID-19. It's a strong indication of the general heath and diversity of their economy.
Ceará's Real Estate Market
The real estate market in the Fortaleza area has tremendous growth potential. Prices are as little as a tenth of what you would pay for similar properties in Florida or California.
What's the catch? How can they afford to sell these amazing beachfront homes starting at less than the price of a nice SUV?
I tell my clients that they are asking the wrong question.
The question should be: Why is real estate so overpriced in the United States?
You can buy new homes on the beach in northeastern Brazil for less than US$70,000 because Brazil has a fully integrated economy and lots of labor.
They make everything in Brazil, while America imports everything from China.
There are no import tariffs on home-produced building materials. It's all sourced and built locally. The steel, concrete, floor tiles, roof tiles, wood, cabinets, granite countertops… everything is locally sourced.
These local supply chains allow savvy developers to build at a better price than anyone else.
There's lots of prime oceanfront land available along the northeast coast of Brazil, which means developers can find development sites at reasonable prices.
If you are interested in acquiring residency through your investment, you can invest 700,000 reals (roughly US$140,000) in property in northeastern Brazil to be eligible for the Investor Visa. This is a lower threshold than if you were buying in southern Brazil.
The developer we are working with offers several developments within an hour or two of Fortaleza and its international airport. And yet, these developments feel a thousand miles away from congested cities and are on some of the most spectacular beaches in the world.
Our development partner is a boutique building company that has been active in the area for over two decades.
These guys don't build 30-story concrete condo towers. Their specialty is finding small plots of land on pristine beaches and developing a limited number of boutique villas and bungalows.
They attract a different type of consumer than your typical condo buyer.
Unique to the Fortaleza area is the year-round rental market. This is what makes investing here much more lucrative than elsewhere in Brazil. Most of Brazil caters to the summer vacation rental market (June to August) or the winter vacation market (December to February) and everything else is off-season.
You can reasonably expect anywhere between a 10% and 15% return on your rental investments due to the year-round tourism rental market and the very low entry costs, coupled with the fact that they develop desirable seaside properties.
The rental occupancy rate in this area is an impressive 88%, making this a viable investment opportunity.
Located in Canoa Quebrada (90 minutes from the city of Fortaleza) in the Ceará state, this developer is selling bungalows with their own pool, located on the best stretch of beach in the area.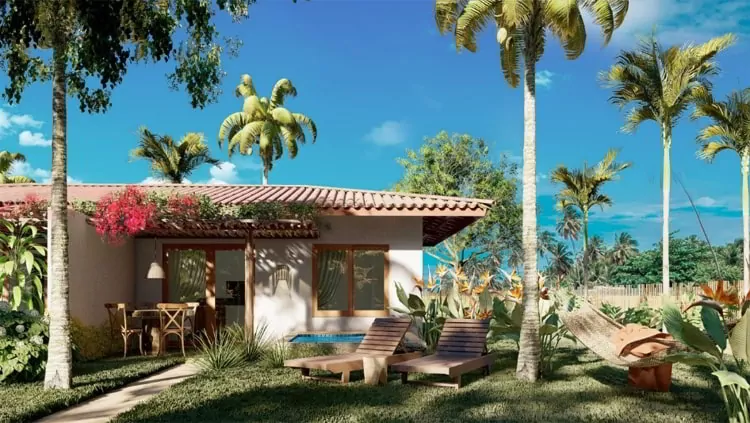 The bungalows have a living space of 37 square meters (400 square feet), one bedroom, one bathroom, and a private pool. Construction is expected to be completed by August 2024.
This investment has full-service property rental and management available.
The property has a cash price of US$67,000.
Developer financing is available from US$77,000. You'll put 25% down with interest-free payments for the remaining balance over 24 months.
The development is near one of Ceará's most popular tourist destinations, with access to great restaurants, supermarkets, shops, and tourist activities such as dune buggy rides, kite surfing, diving, paragliding, ATV tours, fishing, boat trips, and several of Brazil's most beautiful beaches.
To find out more about this opportunity, click here.
Con Murphy
Editor, Overseas Property Alert