On our first scouting trip to Costa Rica, my travel companions were on the lookout for properties with a water view. Follow the link to see my report from last week on the Lake Arenal area.
After a week on expansive Lake Arenal, we drove to the Pacific coastal areas around Playa Hermosa. Many people have heard of Tamarindo and its surfing, party-town atmosphere. If that's not your scene, Playa Hermosa is only 1.5 hours north along the Pacific coast, and offers a quieter, more laid-back vibe.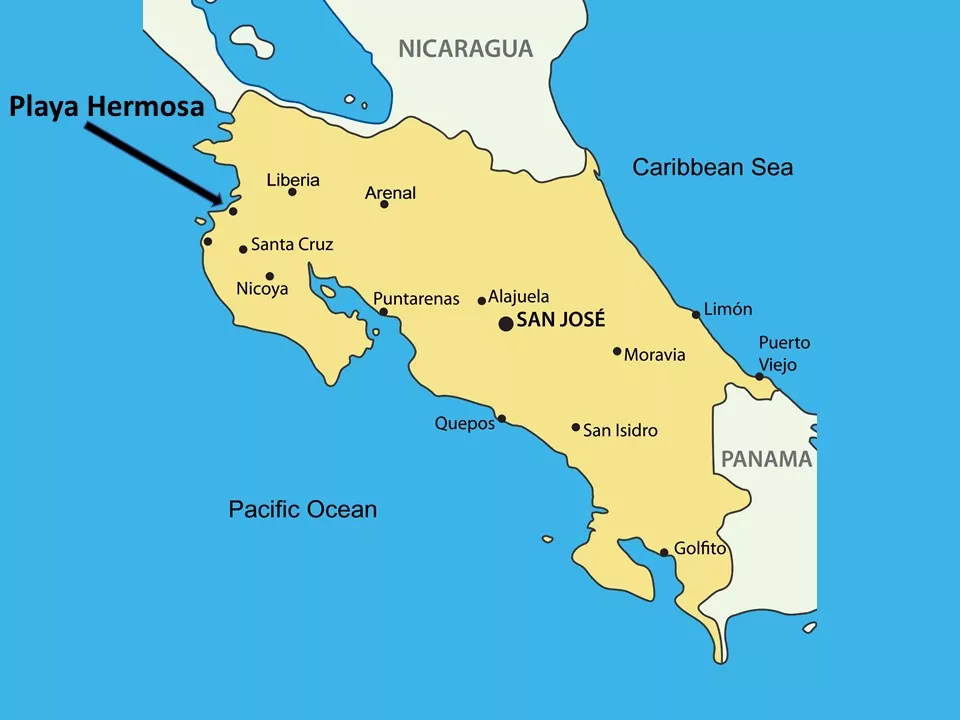 In a small cove surrounded by steep hillsides, Playa Hermosa affords protection from the Pacific Ocean's more severe weather and large waves. The coastal mountains not only shelter the beaches, but also provide amazing views for the homes that are built into the hills. If you're looking for a vacation or retirement home in a friendly community, then you need to take a look here.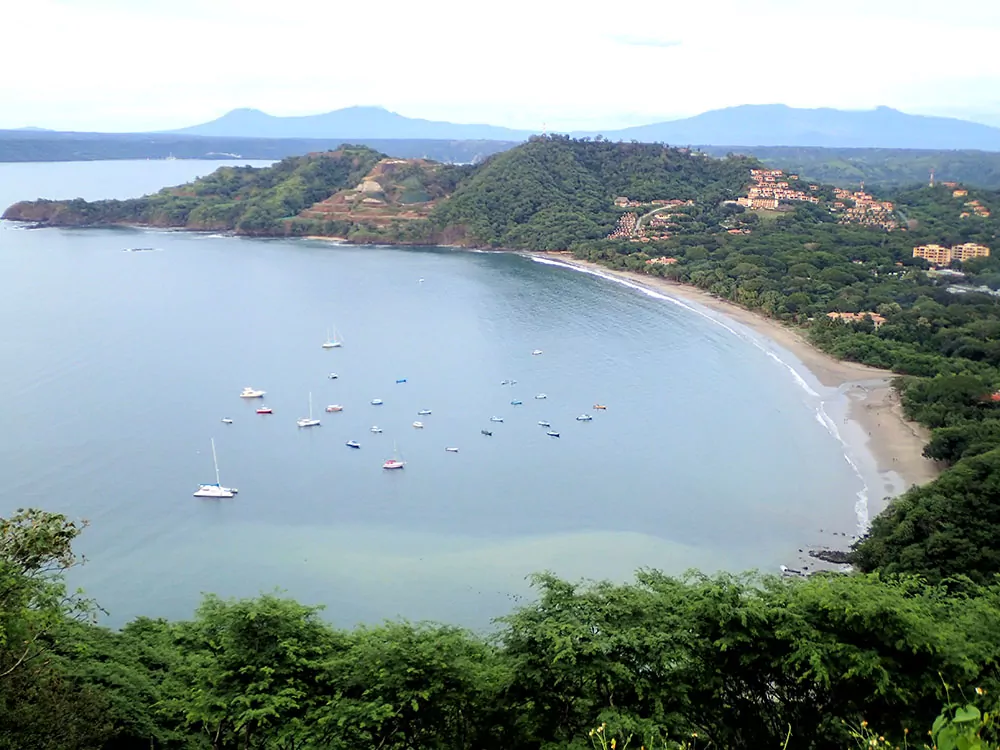 We visited the area 10 days after tropical storm Nate pounded Costa Rica. Not knowing what to expect, we were very pleasantly surprised to see the condition of the roads and beaches. Debris from landslides and flooding had been cleared by locals who volunteered their time and equipment to help their neighbors once the storm cleared. When the power went out during the storm, a locally run grocery store remained open with the help of a generator.
Businesses in Playa Hermosa are located on two main roads in town. Locals call them the first entrance and the second entrance. You'll find a variety of restaurants just steps from the sand along with shops and accommodations within walking distance to the beach.
The gentle surf is perfect for paddleboarding, snorkeling, and family activities on the 1.2-mile stretch of grey/black sand. The beach is seldom crowded with plenty of shade provided by palm and fig trees along the edge.
Here's What To Expect In The Greater Playa Hermosa Property Market
We were personally escorted around town by Joseph Emanuelli. A former chef in New York, Joseph moved to Costa Rica 10 years ago and he's now a Broker Associate for the Tres Amigos RE/MAX office in Playa Hermosa. You can reach Joseph directly here.
During a fun and educational day with Joseph, I discovered some great properties in Playa Hermosa:
Bella Vista: This is a 12-unit, Spanish-style, hillside development within walking distance to the beach. Two apartments are available in separate towers, which have separate pools, social areas, and elevators along with covered parking for one vehicle per unit. The unobstructed views from each apartment showcase Playa Hermosa and the surrounding countryside.

"Bella Vista B2U2" has two bedrooms (both with ensuite baths) and a powder room. The kitchen is recently remodeled with granite countertops and stainless steel appliances. Three arched windows frame the coastal view from the dining room and kitchen. This 1,237-square-foot, turnkey unit is listed at U$242,000.

"Bella Vista #3" offers a similar design but with two large, curved dining room windows highlighting the ocean view. With granite counters throughout and a modern kitchen, this unit is also offered fully furnished and move-in ready. At 1,450 square feet, the asking price is US$225,000.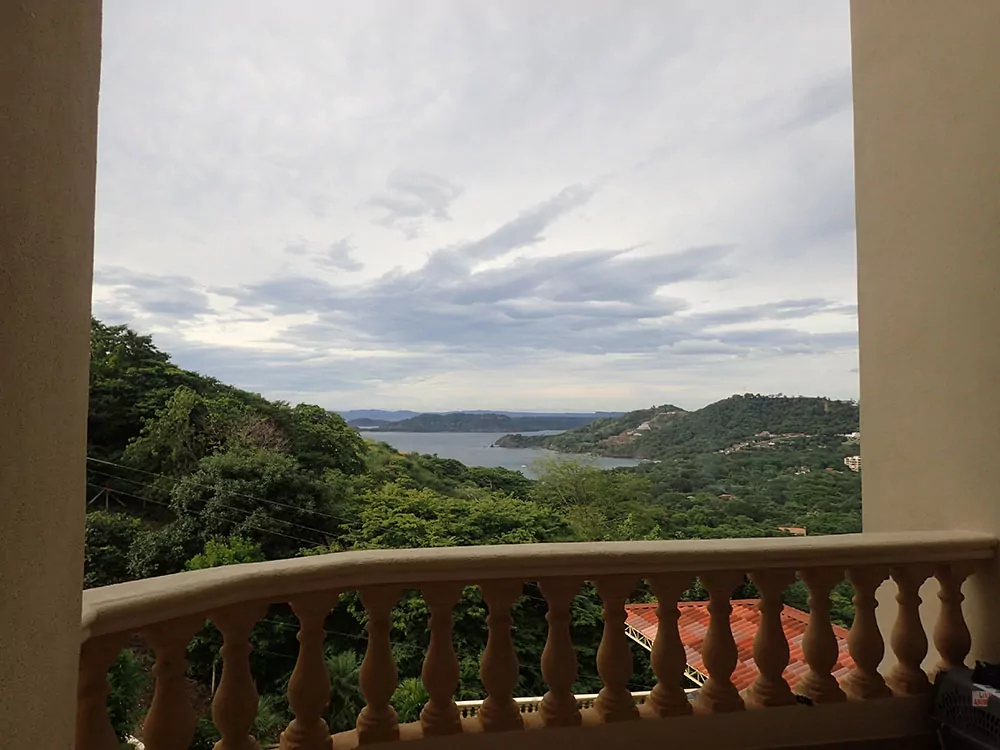 El Cubil

: This brand-new, ultra-modern complex features large, two-story apartments. The upper units also have a third-floor, rooftop terrace. The common space includes a gorgeous pool/Jacuzzi area with solarium and barbecue space near the covered parking area.

The 2,131-square-foot, lower-level apartment overlooking the pool area offers two bedrooms and two-and-a-half bathrooms with an additional office/loft space that could be converted into a third bedroom. The list price is US$200,000.

The 2,852-square-foot, upper-level apartment has a similar layout but features a private rooftop terrace where you can watch the sunset over Playa Hermosa. This upper apartment is offered at US$275,000.
Moving down the cove, the nearby towns of Playas del Coco and Playa Ocotal are a quick drive or casual walk from Playa Hermosa.
Playas del Coco, known as El Coco by the locals, is one of the oldest beach communities in the Guanacaste region of Costa Rica and also one of the fastest growing tourist destinations. Featuring a public health clinic and a variety of shopping options, you can find everything you need in Playas del Coco.
Pacifico is a luxury, planned development in El Coco. This resort-styled community features four pools, staffed gymnasium, tennis courts, manicured gardens, 24/7 security, and a private Members' Beach Club with shuttle service. Pacifico is within walking distance to grocery shopping, restaurants and night life, and also a quick, 25-minute drive to the Liberia airport.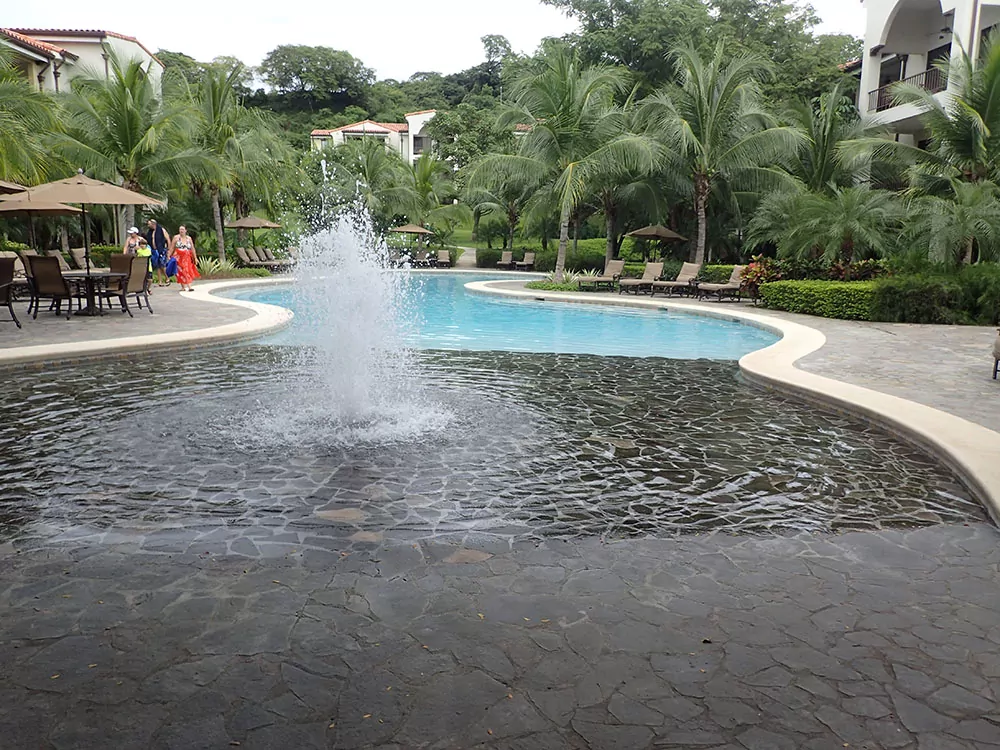 506 Clubside Drive: A 1,351-square-foot, two bedroom, two-bath, fully furnished apartment with a peek-a-boo view of the ocean offers a spacious, open-floor plan, upgraded kitchen with granite counters, and an enclosed garage/storage space. This motivated seller is asking US$215,000, while smaller apartments in the same development start at US$235,000.
Heading further south, you'll encounter the tiny village of Playa Ocotal. With easy access to a smaller, more intimate beach, the properties on Playa Ocotal are generally less expensive than the other two communities:
Vista Ocotal 1: A town house located only 200 meters from the ocean offers 753 square feet of space with an open living plan including two bedrooms and one bath. This gated, 13-unit community has a private pool and social area. The property also shares the Beach Club, gym, and tennis courts associated with the Pacifico community mentioned above at a much lower cost. The asking price is US$189,000.
Corona del Mar: Up a steep hill and entryway, 12 apartments share a gymnasium and infinity pool with incredible ocean views. The 1,000-square-foot unit boasts a covered terrace and master bedroom with expansive ocean views. The two-bedroom, one-bath, open-floor plan needs some TLC. Located 3 kms from Playas del Coco, this apartment is listed at US$195,000. Editor's Note: As we go to press, this property has an offer pending.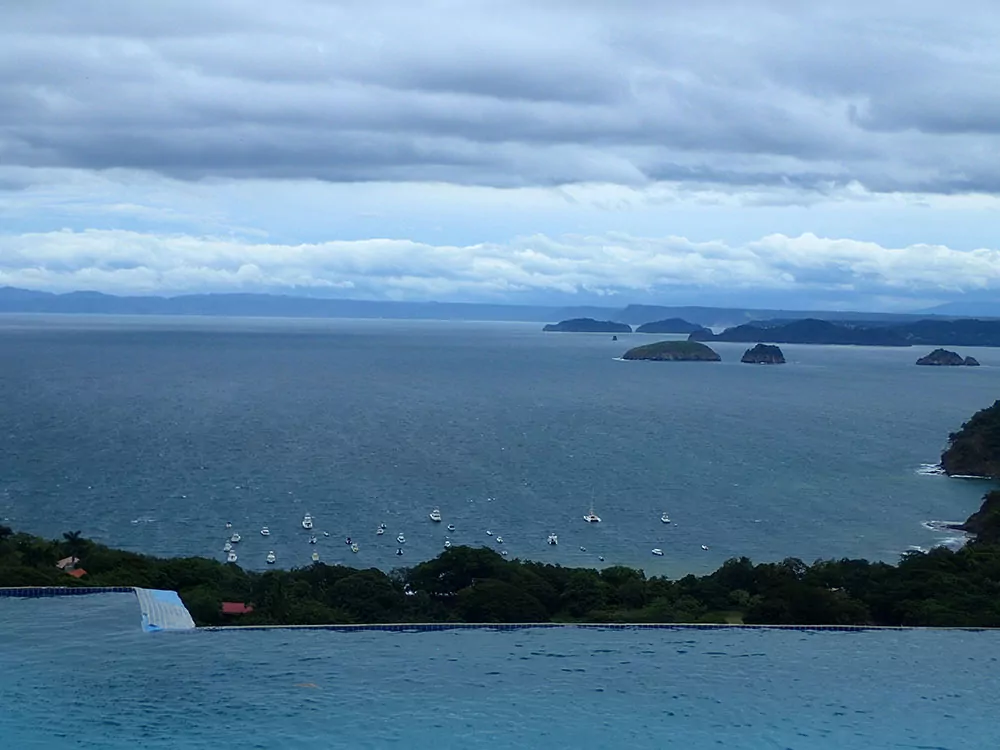 Is The Playa Hermosa Area For You?
Parts of Costa Rica can be a challenge due to rocky, unpaved roads and the absence of street addresses. But these beach towns are an easy, 30-minute drive from the Liberia airport on a paved, well-maintained, two-lane road. The locals are friendly and the vibe is relaxed.
If you are looking for a party beach-town with lots of clubs and nightlife, these beaches are not for you. Playa Hermosa is more traditional and peaceful with a small-town feel. This area is perfect if you are looking for short- or long-term rental income and a great place to call home when you vacation in Costa Rica.
Wendy Howarter
Letter To The Editor
Hi Lee,
I saw you at a conference in Las Vegas a few years ago, and you were outstanding.
I'm one of your typical gringos who has fallen for a much younger companion (she is from Barranquilla, Colombia). Where can I find a list of top-notch Spanish schools in Ecuador, Colombia (must be cooler temps than steamy Barranquilla), or Mexico in the Tulum area?
I can't wait for your next few in-country conferences.
Thanks,
Steve
First off, congratulations! And you're right to put a priority on your Spanish studies.
And my next conference will be the Global Property Summit, this March in Panama City, Panama.
My first choice for Spanish study would be Ecuador. The Spanish spoken there is generally clear and precise (unless you're on the coast), and will serve you well anywhere in the Spanish-speaking world. Quito and Cuenca are the best options… Quito will be a bit less money, while I personally would have a better time staying in Cuenca. There are too many high-quality schools to mention, but, for what it's worth, I went to CEDEI in Cuenca, and found it to be absolutely first-rate.
Mexico is also a great palace to study Spanish. In the Tulum/Riviera Maya area, I'd recommend International Language House, which is run by Director Marta Conesa. I just saw Marta a couple of weeks ago and think she runs a great organization… she makes language-learning fun. Be advised, though, that this area can be as hot as Barranquilla unless you're there in the wintertime.
Here's Marta's contact info:
Marta Conesa
Director, International House
www.ihrivieramaya.com
ventas@ihrivieramaya.com
In Colombia, the only school I have experience with is Medellín's Centro Interactivo de Español, founded by Lucas Rave.
Here's Lucas's info:
Lucas Rave
Founder, Centro Interactivo de Español
info@ciecolombia.com
I think Medellín is a good compromise location for you and your new partner, given its mildly warm weather. In Barranquilla, you'll swelter… in Bogotá, she'd freeze. Medellín will be just right.