Plus: "I Need Advice For My Next Property Purchase"
"If there is a heaven for me, I'm sure there is a beach attached." –Jimmy Buffett
Dear Overseas Property Alert Reader,
Jimmy Buffett found his island escape when he relocated to sunny, sand-fringed Key West, FL, from Nashville, TN, in the early 70s.
He'd been trying to make it in Nashville's music scene, but with his unique style that wasn't quite country and wasn't quite rock, he didn't have much success.
Everything changed after a busking expedition to Key West in 1971.
Tropical weather… sandy beaches with swaying palms and aquamarine Caribbean waters… a friendly, alternative community… a laid-back way of life…
He liked what he saw so much that he decided to move there a year later, which completely changed his life.
Key West was the launchpad for Jimmy Buffett's career.
The island atmosphere and its quirky people were the inspiration for his "tropical rock" music style that became so popular that, by the time of his death on Sept. 1, 2023, he was one of the wealthiest musicians of all time.
But the appeal of Key West—that "island escapism" feeling that his music captured so well—isn't limited to the Straits of Florida…
Even Jimmy himself acknowledged this: "There's many, many Key Wests out there that have been created over the years…"
Here at Overseas Property Alert, we believe the biggest potential for both fun and profit lies beyond the borders of the United States.
To that end, we've identified three places overseas where you can enjoy a Jimmy Buffett-inspired Key West lifestyle for a fraction of its US$1,076,312 average home value.
1. Ambergris Caye, Belize
"The good news from Belize is… no news from Belize."
So said "60 Minutes" correspondent Morley Safer during his 1988 broadcast on this unassuming little Caribbean nation of 400,000 people.
Thirty-five years later, the sentiment still holds true. Aside from a handful of infrastructure upgrades to accommodate its tourism industry, not much has changed in sleepy Belize, and that's the way people like it.
It remains the perfect place to escape the world's troubles, and for Americans, that peace of mind can be accessed in as little as two hours of flying from Miami.
Perhaps the friendliest part of this English-speaking country is Ambergris Caye, a 26-mile-long, 1-mile-wide island just off the Belize mainland.
About 15,000 people live here full-time, including about 3,000 expats who get from A to B on golf buggies and motorboats.
Its capital is San Pedro, a quirky, comfortable beachside town with open-air bars and restaurants, art galleries, wine shops, bakeries…
Ambergris Caye appeals to the retiree who wants the Caribbean and who appreciates that this classically Caribbean spot is also affordable.
It also offers a lot for the investor, with a mature tourism market, in a destination that's best-in-class, in a country that's world-renowned for its diverse tourism potential.
Ambergris Caye Property Pick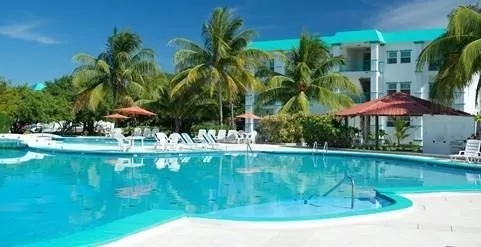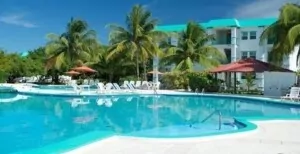 Just a five-minute walk from a white-sand Caribbean beach, there's an opportunity to buy into an exclusive community from a developer that Lief Simon has worked with for over a decade.
It's not your typical beach property investment… The developer has partnered with Best Western, one of the world's biggest hotel chains, to deliver high standards, spending power, and experience.
The community boasts on-site amenities like the largest pool on the island (complete with a swim-up bar), a fitness center, tennis courts, and a restaurant.
It's near restaurants and bars, and it's right in the middle of a thriving tourist hot spot. You'll have diving, fishing, snorkeling, and swimming, as well as restaurants, shopping, and supermarkets, all nearby.
In short, it has everything needed to keep you or your rental clients happy and returning again and again. It offers strong ROI potential of 6% to 10%.
Studio apartments at this development start at just US$148,000… a bargain considering what the equivalent would cost in Florida or California.
Get in touch about this opportunity here now.
2. Bocas Del Toro, Panama
Bocas del Toro is a province of northwestern Panama that consists of a stretch of mainland plus nine islands that float in the Caribbean.
It stands out from the rest of Panama for its Caribbean-Calypso vibe. The locals are descendants of Afro-Antillean people brought over from Jamaica, Martinique, and other islands during the construction of the Panama-Colón railroad, the Panama Canal, and other projects.
The local language is Bocas del Toro Creole or English with a distinctive Jamaican lilt. This is one place in Panama where you can get by exclusively on English.
A big, diverse group of expats have settled here, especially on the main island, Isla Colón.
They love Bocas for the laid-back Caribbean lifestyle, the camaraderie of expats and Panamanian locals, the delicious fresh seafood, and the daily choice between total relaxation or boating, water sports, and fishing.
Some expats are retired, some are remote workers, and some own small businesses, such as restaurants, mini-supers (corner stores), nightclubs, and hostels.
Most of those businesses are situated in pastel-hued Victorian-style buildings along the main street of Bocas Town, the provincial capital. Reggae music seeps from their open doors and windows as water taxis glide up to the town dock.
A carefree destination with stunning scenery, it's hard to resist Bocas' appeal.
Bocas Del Toro Property Pick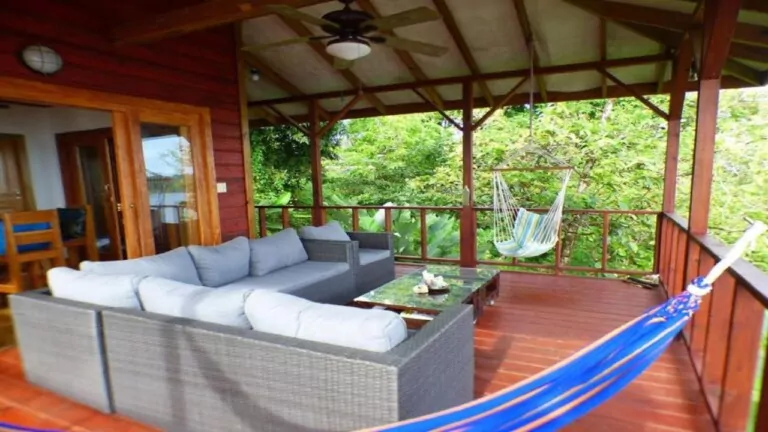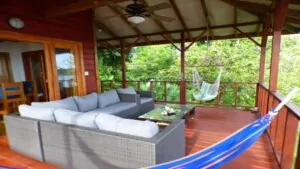 This two-bedroom, two-bathroom house features spectacular Caribbean views from its hilltop vantage point on Isla Bastimentos.
It's a split-level, with open-air living on the lower level and enclosed spaces with air conditioning on the upper level, where the bedrooms are.
The house is in Old Bank, the main town on Bastimentos, just a 10-minute boat ride to Bocas Town and a 20-minute walk along jungle trails to Wizard Beach.
Most importantly, the property is titled, which can be an issue in this area of Panama. The asking price is US$165,000.
3. Las Terrenas, Dominican Republic
If you dream of golden sand and clear, blue waters, small town vibes, and friendly locals, then this Caribbean escape might just be your Shangri-La.
Located on the Dominican Republic's Samaná Peninsula, laid-back Las Terrenas has been sought out by European expats for decades.
The French were among the first to arrive here in the 70s and 80s, and their influence remains strong. There are authentic boulangeries where you can buy croissants and cafés au lait. Pétanque on the beach at sunset is a daily ritual.
Nowadays, Las Terrenas is on North Americans' radar for retirement, and it's easy to understand why…
Life here is all about outdoor fun. Surf, kite surf, snorkel, dive, kayak, paddle board, hike to hidden waterfalls, or take an ATV ride (the most common mode of transport).
You can relax on soft-sand beaches with sparkling waters or walk, run, or bike along the town's boardwalk.
The cost of living is another draw. Overall, you could live with your basic necessities in Las Terrenas for about US$1,300 per month. Splurging a little more could raise that to a monthly budget of US$2,000 for a couple.
Las Terrenas Property Pick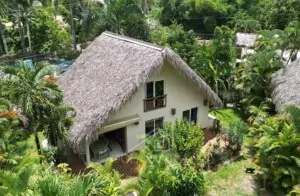 This two-bed, two-bath bungalow is in a gated community that includes access to a shared swimming pool, parking, manicured gardens, and 24-hour security.
It's near Las Terrenas' town center and just a five-minute walk to one of its best beaches, Playa Popy.
It's being sold furnished, with ample living space spread out across two floors and air conditioning in the main bedroom.
This is a turn-key opportunity, ideal for generating rental income or for personal use by someone who wants to move in right away. The asking price is US$210,000.
Bonus Pick: Los Islotes, Panama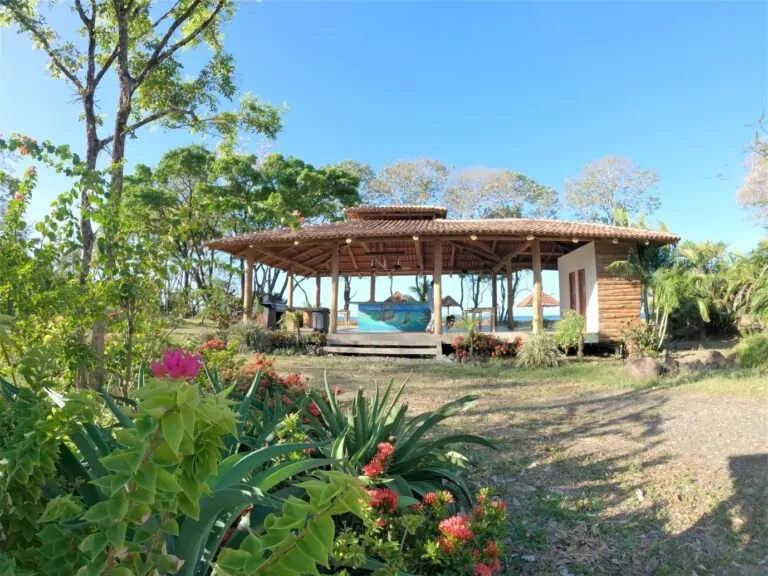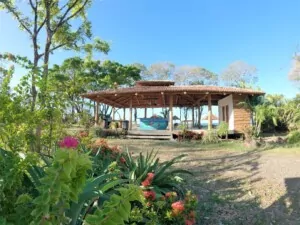 On Panama's Pacific coast, there's a private residential community under development that offers the ultimate escape from the onslaught of modern life. It captures the heart and soul of Jimmy Buffett's music like no other place I've seen…
The community consists of 425 acres of rolling hills and virgin shore, including two beaches, along the Azuero Peninsula's little-known but pristine west coast.
It will feature amenities like a gatehouse, a beach club, a swimming pool, an equestrian center, tennis courts that will double as basketball courts, a fitness center, parks, hiking trails, riding trails, and more.
Los Islotes will be the preeminent private residential community not only on this coast but in all Panama. It's a place that values beauty, history, and tradition, as well as privacy, security, freedom, independence, and elbow room.
To take a position in Panama's path of coastal progress while also joining a unique community that recognizes how special and valuable this spot really is, go here now.