Investing In Europe's Economic Powerhouse
Germany doesn't get nearly enough credit. Its efficient economy is the powerhouse of the Continent, and its standard of living one of the highest in the entire world. Universal health care, free college, respect for individual rights, plenty of jobs, affordable housing—Germany seems to have it figured out.
The city of Berlin is an example of how tearing down walls rather than erecting new ones can spur rapid economic growth. Since tearing down the Berlin Wall that divided the city from the end of World War II until 1989, the city has gone on to become a leader in the borderless EU. And with the United States and U.K. withdrawing from the world stage, Germany is quickly emerging as the leader of the free world.
Cities like London, Paris, and Barcelona receive more than their fair share of attention when it comes to the top spots for urban living in Europe. But Germany's capital city, Berlin, is a world-class city like no other. And, when comparing Berlin to other world cities, there's one aspect that makes it especially appealing: the relatively low cost of its real estate.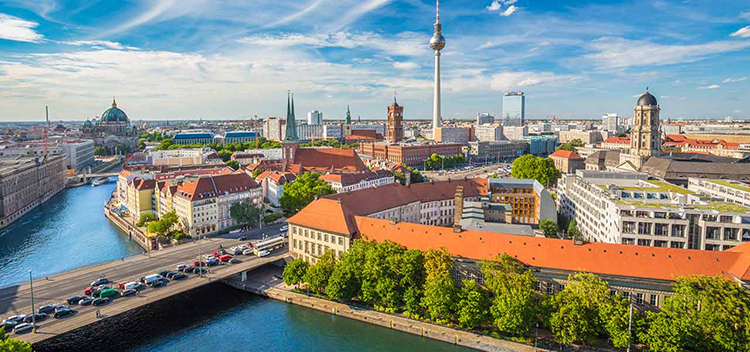 From San Francisco to Toronto, New York to London, Paris to Hong Kong, the cost of purchasing a home is prohibitively expensive. Unless you earn a six-figure income or have a couple million sitting in your bank account, you're out of luck.
In Berlin, however, the price per square meter for property is about 3,000 euros (US$3,400). That's less than one-third of what you'd pay in Paris, and a quarter of what you'd spend in London.
Yet despite the affordable prices, almost everyone in Berlin rents.
An Attractive, Vibrant City With Green Parks And An Energetic University Vibe
It's not only that Berlin is so much more affordable than those other cities that makes it so attractive. The lifestyle and amenities in the city attract an eclectic mix of young and old, foreigners and locals, techies and academics, urbanities and voyagers. Berlin is the seventh largest urban population in the EU, with more than 6 million residents from some 190 nationalities.
This is a cosmopolitan hub, thriving with music, art, museums, academia, and entrepreneurialism. Getting around the city is easy with an extensive public-transit system. The official fare for the U-Bahn subway system is only a euro and a half; the unofficial fare is nothing, as the payment is loosely enforced. Internet giant Google is behind the Factory Berlin, a cluster of growing tech start-ups and established companies. Further, Google is looking at opening a campus of its own in the trendy Kreuzberg district later this year.
Students (and their parents) should take note that in Germany, public universities are free—even for foreigners. Currently, some 5,000 U.S. students are enrolled in German universities. Some programs are even taught in English.
The schools of Berlin contribute to an overall feeling of being in a city where knowledge and education are valued. The youthful campus vibe and academic atmosphere are an important part of the city's urban environment.
Berlin's urban environment is not a concrete jungle. One-third of the city is covered by forests, park, gardens, rivers, canals, and lakes. Just outside of the city, Schlachtensee and Wannsee Lakes are packed with city slickers on weekends, and a bit further out is the less packed Müggelsee. Be forewarned, however, that swimming and sunbathing in the nude is allowed at many of these lakes.
Strong, Fundamental Forces Are Driving The Berlin Real Estate Market
For the most part, the 2008 global financial crisis left Germany's housing market relatively unscathed. In fact, since 2005, German housing prices have almost doubled. Valued at approximately 500 billion euros (US$570 billion), the German housing market currently makes up 18% of Germany's economy.
Housing demand in the nation is high, and supply is struggling to keep up. The number of new homes expected to be built in Germany is 300,000 for 2017, but this still falls short of the estimated demand of 350,000. The shortfall will add to the existing shortage of about 1 million homes.
There are several factors driving the surge in demand in Berlin and across Germany. While much is said about the number of migrants arriving to the country to seek refuge from the war in Syria, there is also an effect from Brexit, as EU nationals and dissatisfied Brits—mostly young and educated—look to re-establish themselves somewhere that isn't looking to shut itself out from the global economy.
Renting is the norm in Germany, where only about half of households are owner-occupied, and the property ownership rate in Berlin is even lower at only 14%.
With such a large renting population and such little housing stock, it's no wonder that residential vacancy rates in Berlin are just under 2%. It's even less of a wonder that prices are beginning to respond accordingly. In 2016, prices for properties in Berlin rose 13%.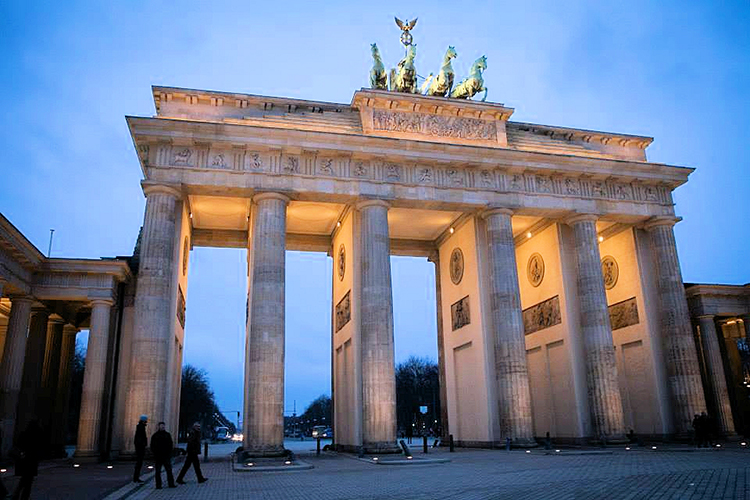 Some Good Examples Of What's On The Market Today
Shopping around in Berlin, you'll notice that most of the city's residential spaces are found in multiunit buildings. You might find a single-family house with a yard on the outskirts of the city, but they aren't that common.

In the Friedrichshain neighborhood is a two-bedroom, 75-square-meter, second-floor apartment on the market for 227,000 euros (US$259,000). It's centrally located next to the water as well as the Alexanderplatz public square, where public transportation is plentiful. The building includes underground parking and rents for roughly 800 euros per month.

Not far from there is another centrally located apartment in the Mitte neighborhood. The compact 30-square-meter studio unit is on the market for the affordable price of 74,900 euros (US$85,500). The apartment is close to all the urban amenities and would be perfect for a student or someone on a budget. Alternatively, the unit is currently occupied and would be a great turnkey property investment, as it's currently yielding an annual 3.8% return (before appreciation gains are taken into account).

Also in Mitte is a one-bedroom, 60-square-meter apartment for 168,000 euros (US$191,500). The unit sees plenty of sun coming through the windows and is fairly spacious for a one-bedroom unit. The building, built in 1910, recently underwent renovations. The unit is currently occupied, too.

In the Schöneberg neighborhood is a unique two-story, one-bedroom apartment for 199,950 euros (US$228,000). The main floor is an open concept kitchen, dining room, and living space, while upstairs features a spacious loft-style bedroom, the bathroom, and a second entrance.
What You Need To Know As A Landlord In Berlin
If you've purchased an apartment and want to put it up for rent, you should be aware of some of the regulations regarding renting property. The German system is designed to encourage renting rather than owning, and tenants are given favorable treatment under the law. But, while Germany grants tenants strong protections and rights, the country also ensures landlords receive favorable tax treatment so that they are encouraged to rent, thereby maximizing the availability of rental properties on the market.
You'll need to pay taxes in Germany on any rent earned from properties there. Income tax kicks in around 9,000 euros and goes up on a progressive scale from 14% to 42%. Non-EU citizens must pay a minimum of 25% tax on their German-sourced income, and an additional 5.5% capital gains tax on the income tax levied (e.g., an additional 5.5% of the 25% tax, which would total 26.375%). For EU citizens, the minimum is 15%.
If you purchase a property with existing tenants, you can't kick them out; their lease continues as stated in the contract with their previous owners and any changes to that lease must be agreed on by both the landlord and tenant. This includes increasing the rent. If you choose to terminate a lease you signed into, you must provide notice at least three months in advance.
That said, with so many landlords already renting in Berlin, and with such high demand for rental units, there is definitely a profit to be made. A typical one-bedroom suite outside of the city center rents for about 550 euros (US$625). A studio or one-bedroom unit in a central neighborhood would rent for about 800 euros (US$915) on average.
Invest In The Powerhouse Of Europe
Berlin was recently named by PricewaterhouseCoopers as the top city in Europe for real estate investment and development in 2017. Hamburg and Frankfurt took second and third place, underlying the report's message that, thanks to Brexit, 2017 is the year that "Germany replaces the U.K. as Europe's number 1 safe haven."
It seems that Germany has become the new beacon on the hill, the emergent leader of the free world. Real estate investors would be wise to take note.
Matt Chilliak
For Overseas Property Alert
Editor's Note: Matt Chilliak is a writer and activist from Saskatoon, Saskatchewan, with an honors degree in political studies from the University of Saskatchewan and minors in economics and Spanish. He has traveled throughout Canada, the United States, and Latin America, including Mexico, the Dominican Republic, Cuba, Colombia, and Panama. He also holds certification from Fine Art Bartending School and mixes a mean Old Fashioned.​
When I first started writing Overseas Property Alert three and a half years ago, Matt was my editor in Panama City.
Lee Harrison
Editor, Overseas Property Alert
***
Letters To The Editor
Lee,
I have permanent residency in Argentina and Paraguay. How long can I stay in Uruguay during the calendar year?
Would buying a property help?
Regards,
Johann
The short answer is 90 days. And buying a property will not allow you to stay longer.
Most rules for entry, visas, stay times, and residency are based on your country of citizenship, rather than your countries of residency. So having just residency in Argentina and Paraguay will not give you a longer stay in Uruguay.
Like Uruguay, Argentina and Paraguay are full Mercosur members, so their citizens would indeed get special treatment under Uruguay's immigration law. Argentine citizens can enter Uruguay without a passport.
In the real world however, you can probably just flash your Argentine cédula (residency ID card) at the border and get in to Uruguay without a passport. I've tried this a few times, using my Uruguayan cédula to enter Brazil and Argentina. For what it's worth, I got through twice, and got caught once.
If you're going to spend time in Uruguay (or buy a property there), I'd recommend that you just get Uruguayan residency. Residency opens a lot of doors (such as all banking options) and eliminates annoying workarounds.
***
Editor's Note:
This next question actually came in addressed to Lief Simon, but I thought I'd throw my two cents in anyway:
Lief,
Thanks for your recent post on taxes. Didn't you say at a conference that if you do have to pay income taxes in another country, you can get credited for that payment on your U.S. return… thus avoiding double-taxation?
If that's the case, paying income tax in another country isn't being taxed extra, correct? So what's the big deal?
Natalie
Natalie's right, with respect to income tax. It's generally no big deal… but it can be.
Where it's a problem is when the foreign tax you paid exceeds your U.S. tax liability for that income.
For a simplified example, let's say you earned US$100k in Ireland, and paid US$45,000 in income tax. On that same US$100k, you may owe US$30,000 in the States. The IRS is not going to refund you US$15k so you can pay your Irish income tax, so you'd have no credit available to cover it.
Also, you may pay taxes abroad that are not income taxes, and therefore not eligible for the credit. If you pay capital gains tax or a financial transactions tax, this can't be taken as a credit (although they may qualify as deductions, which is better than nothing).
***
Lee,
I want to buy about 1,000 acres in Brazil to take advantage of low prices and favorable currency exchange. This is purely for investment, with hope that the property will appreciate in value as currency exchange, political stability, and real estate market improves over the next 10 years.
How difficult is it to safeguard the property over 10 years? How difficult is to find a land piece that has no title issues? What areas do you recommend in Brazil for best appreciation?
Are there better countries than Brazil for investing in land?
Charan
Unfortunately, I don't think Brazil is a good choice for this kind of land banking. In 2010, they imposed restrictions on foreign ownership of rural land. The exact limit varies from one municipality to the next, but 1,000 acres (405 hectares) will almost always exceed the allowable limit.
As you may know, the Brazilian government has been planning to lift or modify this restriction, perhaps in 2017. But according to the statements I've read, even if they lift the restriction, they'll still want the land to be productive… so leaving it undeveloped probably won't be an option.
I think it's a great time to invest in Brazil. But personally, I'd go with residential property rather than large land tracks.
As an alternative for land banking, I'd consider Colombia or Mexico. You'll still have a strong currency advantage, but won't encounter Brazil's restrictions.
Have a question? You can write to Lee here.